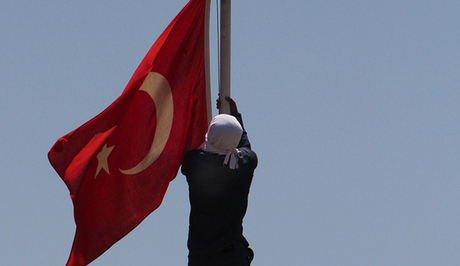 By Manolis Kostidis – Ankaara
A turkish police officer shot and wounded in the leg a Kurd, while he was trying to lower the turkish flag from the police station in Istanbul. The same man minutes earlier had lowered the turkish flag from a hospital.
The 28-year old Ali Ozgun tried to climb on the roof of the police station of the Gaziosmanpasa district of Constantinople to lower the flag. Eyewitnesses say that the aspiring perpetrator was shouting "Freedom to Kurdistan". A policeman saw him and shot him. Ozgun is hospitalized and the state of his health is good.
A similar incident had happened three weeks ago at the air base of Diyarbakir in southeastern Turkey, where a man having covered his face, had climbed to a pole and had lower the Turkish flag during violent episodes. On that day the soldiers did not shoot and the perpetrator had not been arrested.
Prime Minister Recep Tayyip Erdogan had reacted strongly to that action and had stated that "whoever tries to lower the sacred flag of the country will pay the price for his act".
There are many who speak of deliberate provocation from "circles" that do not want the resolution of the Kurdish matter. But nobody clarifies whether these efforts are made by the Kurds or the turkish parastate.