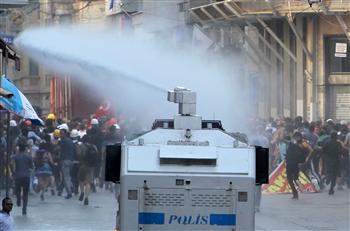 Police have heaviliy intervened in the Taksim area with tear gas and water cannon, targeting protesters gathering on İstiklal Avenue ahead of a demonstration and continuing the intervention into the early hours. The pedestrian İstiklal Avenue is one of the main junctions intersecting with Taksim Square, which is adjacent to Gezi Park.
Protesters dispersed as security forces chased them into side streets, once again using intense tear gas. Ambulances were seen entering the area after the intervention. More than 50 protesters were detained by the police, daily Radikal reported.
Metro access to Taksim Square has been interrupted for hours, while riot police officers were booed by the bystanders on İstiklal Avenue.