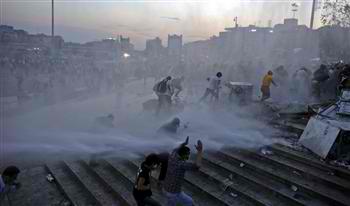 Police intervened once again in Istanbul's Taksim Square using tear gas and water cannons to quell the protesters an hour after Prime Minister Recep Tayyip Erdoğan's ultimatum to evacuate the Gezi Park before tomorrow.
Ambulances were seen entering the park following the intervention. Police have also entered the park for the first time after two weeks. Security forces took over the park, demolishing the tents of the protesters. Dozers worked to clear the remaining barricades around the park. Protesters had started a few hours earlier to remove the barricades standing at the entrance of the park following hours of discussion on their next move. The police have also cordoned off the Taksim Square.
The İstiklal Street ascending the Taksim Square is filled with a large crowd with water cannon trucks waiting at the Taksim entrance. A tiny barricade was removed by the police. A separate group and police clashed in Harbiye side of the park.