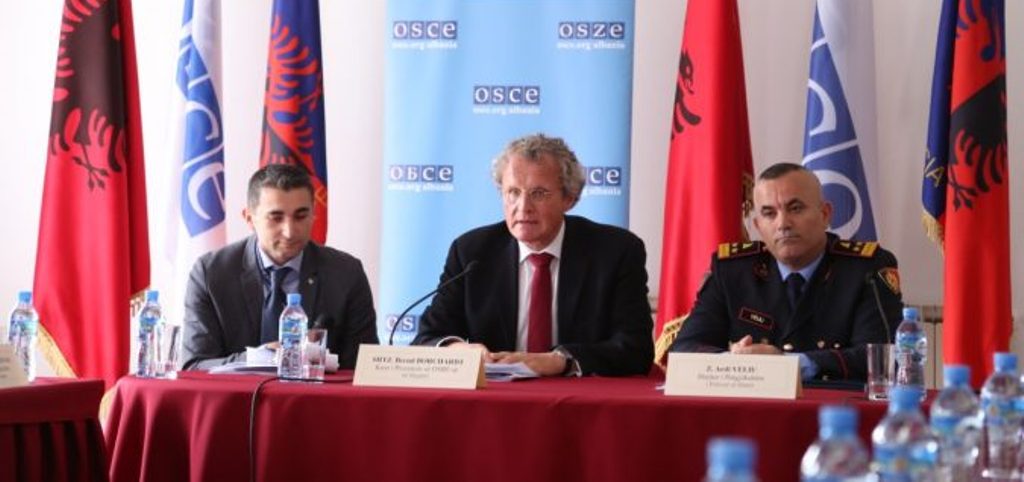 OSCE Presence in Albania has launched a training course for Albanian police officers ahead of the local elections which will take place on June 30.
In a meeting held today between senior police officials and OSCE ambassador to Albania, Bernd Borschardt, the head of Albanian police, Ardi Veliu said that  State Police will do everything it can guarantee a normal electoral process.
The senior police official also assured the international community that "State Police will endeavor to promote the best values of a democratic society".
On his part, the head of OSCE Presence to Albania, Bernd Borchardt, who has recently come under fire by the country's opposition,  praised the work that police did in guaranteeing normal elections in 2017.
"Police did a very good job in the 2017 general elections. I am confident police will be impartial in their work. OSCE Presence will continue to act as a strategic partner", the OSCE top official in the country declared.
While local government elections are a little more than three months ahead, it's not yet clear if the opposition in Albania will participate in these elections. Opposition parties have announced a boycott of parliament and possibly a boycott of local elections too, demanding the Socialist Party ruling party led by PM Edi Rama to form a new interim government and announce fresh elections. The opposition's actions have triggered widespread condemnation by the international community, while numerous foreign diplomats have asked opposition parties to return to parliament and participate in the local elections. /ibna/