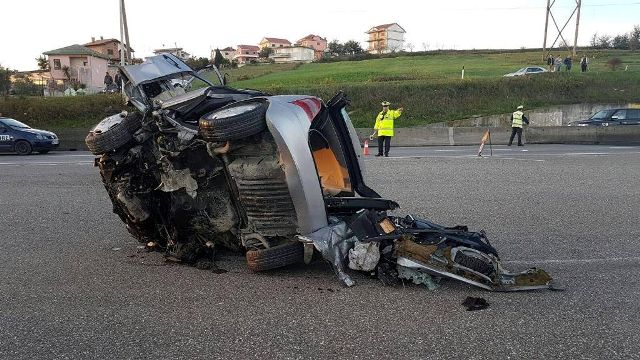 Tirana, 3 October 2016/Independent Balkan News Agency
A tragedy took place this morning in the highway linking the coastal city of Durres with the capital. Four people have died and among them are three girls and a young man.
The victims are Dashnor Deliallisi, 36 years old, resident in Durres, Greta Sherifi, 23 years old, resident in Saranda, Izabela Balla, 33 years old, Elona Kacibaros, 33 years old, resident in Tirana.
Everything happened in the highway linking Tirana to Durres, where Road Police of Durres had established a check point. The check point identified a Mercedes type vehicle driving on the wrong direction of the road beyond the speed limit.
Police have asked the vehicle to stop, but the driver has increased the speed, endangering the life of the police officers.
Police have started to chase him, but the vehicle gained momentum, as it was moving on the wrong direction.
A few minutes later, this vehicle was involved in a terrible accident, where the driver of the vehicle didn't stop and the three girls who were in the other vehicle, crashed in a fatal way. /balkaneu.com/