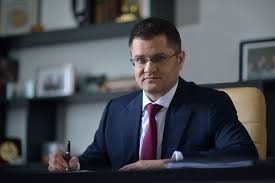 Vuk Jeremic, former Serbian foreign minister who reportedly plans to run for president, was called by police to give a statement over 12 years old case of death of the two guardsmen. "I see this as an intimidation attempt. But I'm not among those who can easily be intimidated. I will stay here and continue to engage in Serbian politics", Jeremic said on Friday evening.
Jeremic, who was also president of United Nations General Assembly, said that "it is ugly to use death for political purposes". Serbian media speculate that Jeremic would run for president in 2017 elections.
He did not denied such reports so far.
Pro-government tabloid Informer has this week published articles linking Jeremic with two guardsmen case from 2004. At the same time prime minister Aleksandar Vucic said that the government would form the special commission to investigate the case.
Jeremic said he would respond to police call and testify tomorrow.
Vucic has several times criticized possible presidential nominations including Jeremic's. Earlier this year Vucic strongly denied that he would run for president claiming he wanted to remain premier. However, according to his recent statements, he "would like" to remain PM, but that "will see" about presidency.
Media close to Vucic have also been campaigning against other possible nominees./IBNA