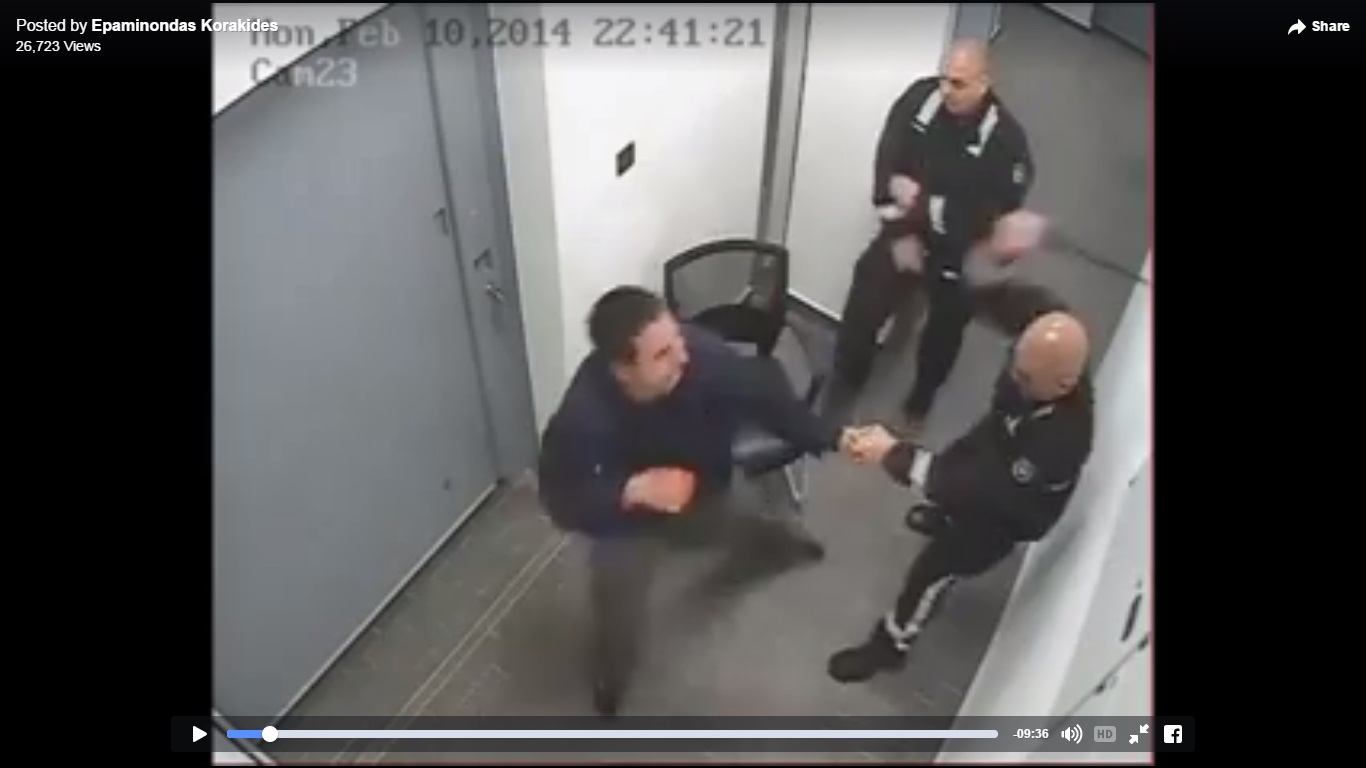 Nicosia, August 21, 2015/ Independent Balkan News Agency
By Kyriacos Kyriacou
Two policemen shown in a video to brutally beat a citizen, held at the Polis Chrysochous police station in Cyprus, February 2014, are expected to be charged according to Andreas Spyridakis, the Head of the Independent Authority for the Investigation of Allegations and Complaints against the Police.
Justice Minister Ionas Nicolaou has stated from his part that the days of impunity are over, calling both policemen "a shame" to the Force.
Spyridakis said that the case will be forwarded to the Attorney General and then to the police prosecutor, to start legal proceedings against the two policemen.
The video was leaked on Wednesday on the internet, showing footage of a man in detention being beaten by two policemen entering his cell. The time code on the video says February 10, 2014. Although a few days later a complaint was lodged with the Independent Investigation Authority, responsible for investigating similar incidents, none of the policemen was suspended or charged.
In statements on Thursday, Justice Minister Ionas Nicolaou said the two policemen will be suspended, once the Independent Investigation Authority concludes its probe into the incident.
"The Police has no use for these policemen," said Nicolaou, who pledged transparency and "zero tolerance" regarding this particular case or any similar incident. "Nothing can justify police brutality against a detainee," he added.
Police Chief Zacharias Chrysostomou responded on Thursday to criticism for not having the two policemen suspended or charged, by saying that the Police has no such power before the Independent Investigation Authority presents its findings.
From his part, Attorney General Costas Clerides said on Thursday that the footage may be used in court as evidence, after the relevant law was amended. Commenting on the incident, he noted that the case file was forwarded to his office by the Independent Investigation Authority on May 19, 2015, proposing legal action against the policemen involved. On June 26, instructions were given to start prosecution, Clerides has said.
The "Cyprus Police Association", a trade union consisting of members of the Police, has condemned the incident, with his Chairman Andreas Symeou noting, however, that the media have covered the incident with partiality.
Moreover, the "Friends of the Police" Association has issued a written announcement, condemning any case of illegal or unsubstantiated use of police force.