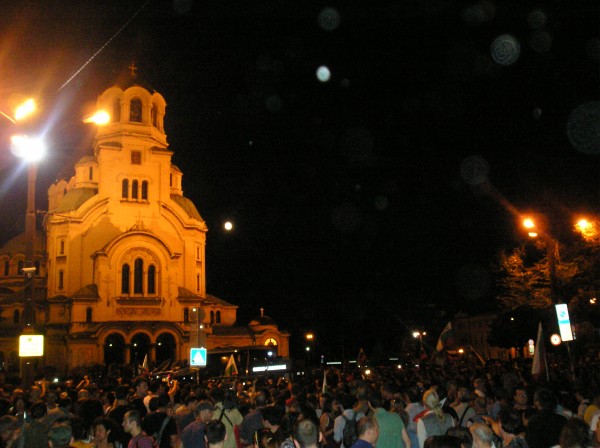 Hundreds of police in riot gear and body armour broke the blockade and barricades around Parliament and Alexander Nevsky cathedral between 3am and 4am on July 24 2013, with more people reported injured in the clashes.
After the failed attempt at 10pm the previous night to evacuate besieged MPs in a bus, which led anti-government protesters to manoeuvre to prevent the vehicle leaving – a clash that also left several protesters and at least one police officer injured – the early-morning move saw a bulldozer used to destroy makeshift barriers.
Only part of the barricades were cleared, however, enough to allow MPs' and ministers' escape pods to pass, while by 5.30am, anti-government protesters were gathering paving stones to rebuild and reinforce the barricades.
These barriers, gathered from paving stones, refuse bins, potplants, bollards and even a cafe umbrella, had been put in place rapidly by anti-government protesters on all streets close to Parliament to prevent MPs escaping the scene.
MPs, from the Bulgarian Socialist Party and Movement for Rights and Freedoms, were then escorted from the scene individually under large-scale police escort. Among those evacuated were three cabinet ministers – Petar Tchobanov of finance, Dragomir Stoinev of economy and Hassan Ademov of labour and social policy. The ministers were said to have been removed in armoured cars.