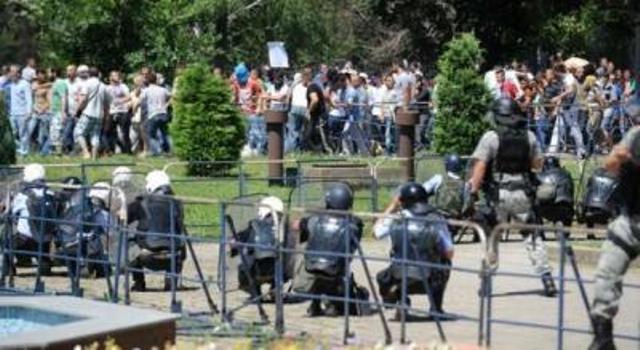 Skopje, August 8, 2014/Independent Balkan News Agency
Hundreds of Albanians have protested today in Skopje against the "Monstra" case, following life imprisonment sentences handed out to six Albanians by a court in Skopje.
Protesters were not allowed by police special units to submit their demands to the government of FYR Macedonia.
Police cordon stopped them at the 'Mavrovasja' crossroad, where organizers of the protest and families reiterated their requests.
The head of the committee of protests, Bedi Ajdari demanded from prime minister Nikola Gruevski and his governing cabinet to explain why the protest was not allowed to take place in front of the government building.
"Why are we not being allowed to protest by the government, if we have a permission to protest and our protest is peaceful? Do they think that they will not be held responsible for the injustice made to Albanians", declared Ajdari.
Meanwhile, former MP and prominent Albanian politician in FYROM, Hysni Shaqiri invited Albanian parties to join this protest against those who deprive Albanians of their rights.
"We're here to support those who have been unfairly jailed by this government and who have put in front of us an outrageous cordon", declared Shqiri.
Another representative of the protest, Daim Luci once again read the requests of the protesters who demand the release of the defendants of Monstra case and those who were arrested during the protests.
"Our requests are very rational. International community too believes that the protests have a political nature. We will address Strasbourg about this injustice and we have lost all hopes on our courts", declared Luci.
Following these declarations, the protest ended and protesters dispersed. /ibna/