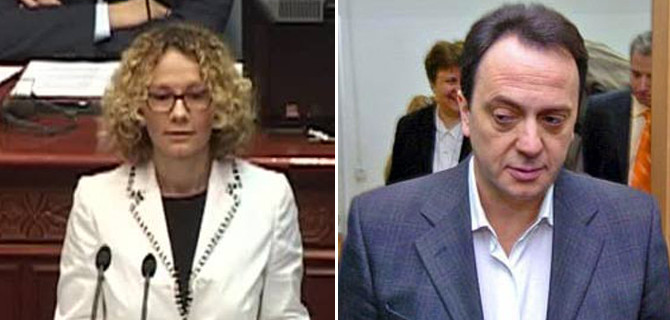 Skopje, November 1, 2013
The head of the secret services of FYROM, Sasho Mijalkov has responded to the accusations of the deputy chairwoman and MP of LSDM, Radmilla Sheqerinska, who has cast doubts over the wealth that he has built up in the recent years.
Mijalkov has posted a reaction in the official page of the Ministry of Interior by stressing that Sheqerinska's accusations are the same as those of the former Minister of Interior, Lube Boshkovski, who then apologized publicly. "My relatives and the public opinion know that for more than 20 years, I have had businesses in the country and abroad, especially in the domain of construction. No denouncement has been made about me over these years and this is a proof of my honesty. Three years ago, Lube Boshkovski came up with the same lies. At that time I have clarified that my share of 50% of the company registered in 2003 has been sold in Prague. For the same lies, Boshkovski was denounced and found guilty. After this, he publicly apologized", writes Mijalkov.
Mijalkov has demanded from the senior official of the opposition to hand in to the Prosecution or Directorate of Public Incomes any proof of his unlawful enrichment if she's in possession. If she doesn't do this, says Mijalkov, then she attempts to divert the attention of the public opinion from the affairs of the opposition. Meanwhile, he also demanded from the senior official of LSDM to publicly apologize for the accusations addressed to him.
Immediately after this came the reaction of the deputy chairwoman of LSDM, Sheqerinska, who wrote on Twitter that, "the analogy made with Lube Boshkovski is taken as a threat".
Yesterday in parliament, Sheqerinska has demanded explanations by Prime Minister Gruevski as to how the head of secret services, Sasho Mijalkov, who is at the same time the cousin of Prime Minister Nikola Gruevski has managed to get 1.6 million Euros richer in less than 5 years. /ibna/