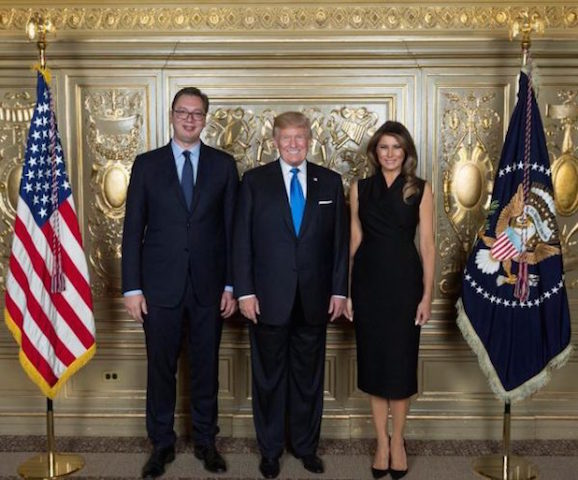 The United States should build even stronger relations with Serbia and find the ways to promote partnerships for the sake of the stability of the whole Balkans, American congressman Ted Poe said after visiting Serbia earlier this month.
Poe, who is the co-president of the Serbian caucus in U.S. Congress, told Voice of America (VOA) that he would deliver Serbian president's invitation to his American counterpart for visiting Serbia. Aleksandar Vucic personally invited Donald Trump to visit Serbia on the sidelines of the recent UN General Assembly session in New York. Poe promised that would "push" Trump to visit Serbia.
"I believe that, if he goes there (to Serbia), Trump would find that Serbs, just like Americans, like him and his unconventional leadership fashion alike. That visit would be good for both Serbia and U.S. and I hope that he will go", Poe said.
Poe also spoke through a letter which he alongside with 13 other congressmen sent to the secretary of state Rex Tillerson which points to "more positive relations with Serbia". "It is good not only for U.S. but also for Serbia – to discuss how we should be better partners… That would contribute to the regional stability. I think, if Serbia is stable, the other countries in the region would also be stable. Our objective in the region is also to have democratic government in Serbia", Poe said.
He underlined that Washington supports democratic reforms in Serbia including the media freedom field. According to Poe, the previous U.S. administration led by president Barack Obama was "ignoring" the Balkans. "I hope that this administration will not ignore the Balkans, or any of its countries", Poe went on.
U.S. congressman sad that he "understands" Serbia's intention to remain military neutral, but would "certainly support" Serbian NATO membership. He said that Russia has not been changed ever since the Soviet Union era…/IBNA
Photo: Aleksandar Vucic, Donald Trump and Melania Trump during the UN General Assembly session, September 2017.