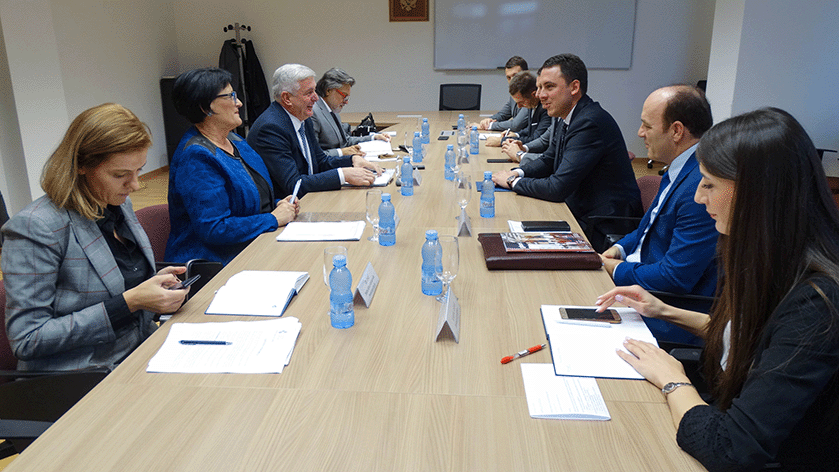 The Chamber of Commerce of Montenegro and the state capital city are close partners working continuously on the improvement of business climate and encouragement of economic activities in Podgorica, was the conclusion of the meeting between Mayor of Podgorica, Ivan Vuković, and chairman of the Chamber of Commerce of Montenegro, Vlastimir Golubović.
The meeting with Mayor Vuković is part of the Chamber of Commerce's programmatic activities, aimed at developing institutional partnerships with local decision makers.
Vuković said that Montenegro's economy was on an upward trend, companies' profits were growing and that they were satisfied with the fact that a great number of business entities operated in Podgorica.
"This capital tries hard to be efficient and to speed up administrative procedures. I believe results are visible", Mayor Vuković pointed out.
He stressed that some huge investment activities were being undertaken in Podgorica and that high-quality business climate was recognized by numerous investors.
The Capital of the country continues to promote advantages of a business zone, and it always counts on the support of the Chamber. Vuković added that the capital is a completely stable and sustainable system and announced the greatest budget ever.
Golubović talked about the activities of the Chamber aimed at improving the regulatory framework, promotion of economy at trade fairs and through projects such as: "Dobro iz Crne Gore", "Kupujmo domaće" and "Domaći ukusi". One of the most important activities of the association is organization of business forums with the aim of connecting Montenegrin businessmen with abroad.
"I call on the representatives of the Capital City to take part in business forums and to showcase advantages of operating in Podgorica", Golubović said.
He emphasized the role of the Chamber in the education reform system and the promotion of dual education.
He also pointed out the prospects for fast and efficient settlement of commercial disputes in the Arbitration tribunal in the Chamber and recommended the inclusion of arbitration clause in agreements the Capital reaches.
Results of the analysis of the operating performance of business entities were presented at the meeting. The results confirmed that Podgorica is very attractive to investors./ibna