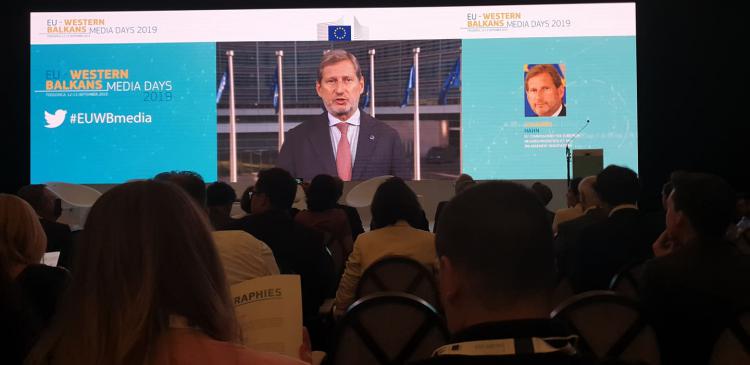 Now former European Commission Commissioner for Neighbourhood and Enlargement Policy Johannes Hahn said in a video message to the participants of the 3. EU-Western Balkan Media Days that media freedoms are under threat globally and that media freedom are in "the heart" of the Western Balkans strategy.
He said that there would be no progress on the EU path without the protection of media freedoms and freedom of expression.
In the address to participants, who gathered in Podgorica, director-General for Neighbourhood and Enlargement policy Christian Danielsson said that guaranteeing freedom of expression is a requirement for making progress on the EU path, and added that freedom of expression and media freedom is not negotiable.
He said that it was his pleasure to open the Media Days and added that during these two days the attention will be directed towards the situation in media freedoms and sustainability of independent media in the region.
According to him, the EU-Western Balkans Media Days were launched three years ago with two main goals: to express concern regarding political and other pressures media outlets and journalists are facing and to broaden the scope of the debate.
Danielsson said that freedom of expression and media freedom are the foundations on which the EU has been built and that guaranteeing those two freedoms is a requirement for advancing on the path towards the EU.
"Independent and quality media are not only crucial for providing factual and trustworthy information which enable citizens to make informed decisions and to participate actively in the democratic process. They are also crucial for holding governments to account, representing in this function a key ally in the full-scale implementation of the rule of law", he said, adding that that is why we must defend independent journalism.
He said that it was time for partners from the Western Balkans to start serious reforms in their media sector and show commitment to EU values and standards.
Minister of Culture Aleksandar Bogdanović said that high ethical principles and self-regulation are extremely important and that media are the best government controllers when they are independent in their work.
He stressed that all the cases of attacks against journalists and their property must be resolved./ibna