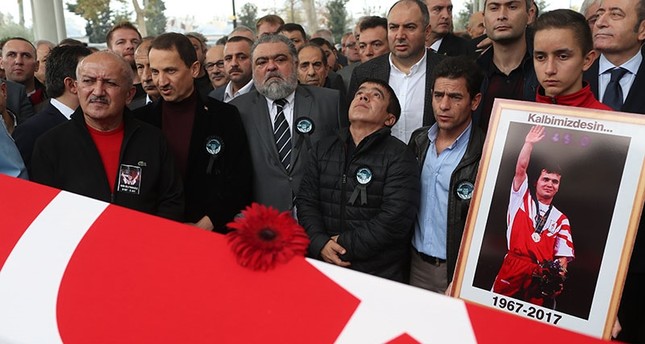 The legendary triple Olympic gold-medalist weightlifter from Turkey, Naim Süleymanoğlu, died a day after his 50th birthday and his funeral was attended by thousands of people who adored him and bid him farewell.
His exceptional career and his special victories "made him a national hero in Turkey, where he is regarded as one of the greatest sports personalities in the country's history", reads Hurriyet (online English edition).
The Bulgarian-born athlete -he was born Naim Suleimanov, belonging to the Turkish minority in Bulgaria- "was admitted to a hospital on Sept. 28 due to liver failure caused by cirrhosis and underwent a liver transplant on Oct. 6. He remained in intensive care following a brain hemorrhage and underwent further surgery on Nov. 11, and died on Nov. 18, according to a medical statement."
Photo: July 22, 1996  Dimitri Messinis/AFP
According to the head of the Turkish weightlifting federation, Tamer Taşpınar, who spoke to Anadolu Agency, " Turkish weightlifting has suffered a great loss".
The country's president Recep Tayyip Erdoğan, had visited Süleymanoğlu in hospital expressed his condolences over his death live on TV during a speech his was delivering and was covered by media.
"Turkey is grateful to Süleymanoğlu for making the country and the nation proud" were the words of main opposition Republican People's Party (CHP) leader Kemal Kılıçdaroğlu.
The great sportsman had managed to score three consecutive Olympic victories: in Seoul in 1988, in Barcelona in 1992 and in Atlanta 1996…/IBNA