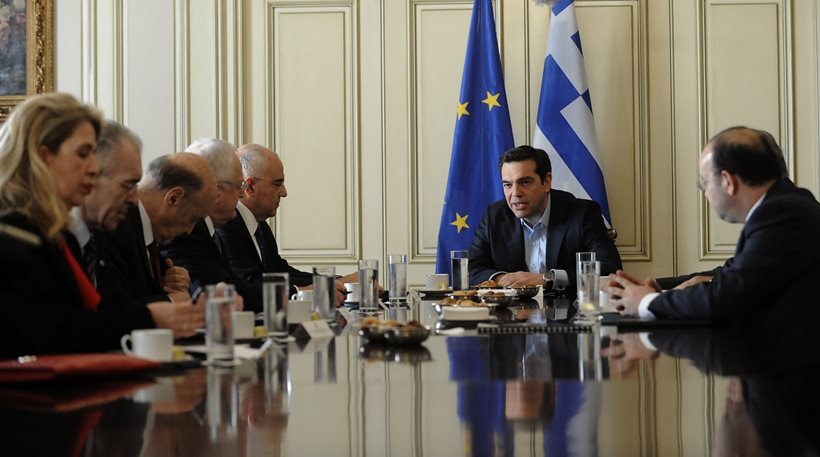 Greek Prime Minister Alexis Tsipras met with the representatives of the country's banking system on Tuesday, the first day of the return of international creditors to Athens for direct talks.
The premier urged the members of the Hellenic Bank Association – the representative of the vast majority of all Greek and foreign credit institutions that operate in Greece – to boost the liquidity available to the Greek real economy and businesses.
In a meeting which was also attended by Deputy Prime Minister Yannis Dragasakis, Tsipras also underlined the need to address non-performing loans and further support the country's systemic banks.
"The crisis began from the inability of banks to provide liquidity to the economy and it will end with remedying this weakness. Government, banks and stakeholders ought to cooperate in order for the economy to recover" the PM wrote on his twitter account.
Uncertainty related to the second bailout review and excessive taxation have contributed to a reversal of the downward trend new NPLs recorded in 2016. NPLs fell to 106.3 billion euros at the end of 2016, from 107.6 billion at the end of the third quarter of 2016. However, according to the Bank of Greece, new non-performing loans grew in the first month of 2017.
The NPL market was liberalized in 2015, probably with the objective to attract foreign investors, but that is unlikely to happen if economic uncertainty remains think tank Bruegel says in a recent note.
Finally arriving at a deal to conclude the stalled review of the Greek bailout program is considered crucial to the health of the country's banking system, especially since a pending reform of the legal framework for outstanding loans is set to be discussed between Athens and international creditors in the context of the review.
Banking sources point out that a final solution must be presented regarding the management of non-performing loans as many Greeks have refrained from repaying their debts in hope that a favorable out-of-court settlement process could be established.
Moody's said in a report last month that a continuing delay in concluding the second review was credit negative for Greek banks since it put at risk their restructuring programs, including their basic axis to reduce NPLs by around 40 percent by the end of 2019./ΙΒΝΑ