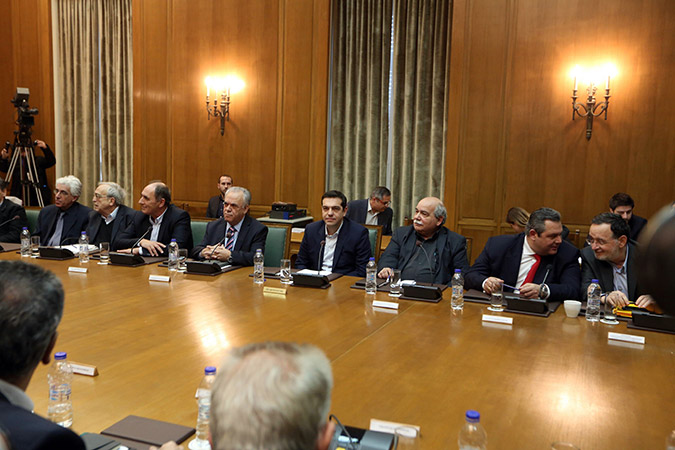 Athens, November 11, 2015/Independent Balkan News Agency
By Zacharias Petrou
After the Eurogroup meeting on Monday handed Greece six days to implement the remaining prior actions before it is granted access to 2 billion euros in bailout funds, the country's government laid down its plans to wrap up the bailout review before the end of the week.
Prime Minister Alexis Tsipras chaired a cabinet meeting on Tuesday in which ministers were informed of developments and progress noted at the Eurogroup.
Tsipras urged the cabinet members to put the finishing touches on the remaining prior actions in order for the "quadriga" inspectors who arrive in Athens on Wednseday to give the go-ahead for the disbursement of the next tranche of bailout cash.
The Greek PM also referred to the success of the Greek government to not back down on the open issues of the 100 installments toawrds the settlement of debts and not imposing VAT on education. "The government's aim is to leave its progressive mark and proceed with huge reforms that the Greek government needs" he reportedly told ministers.
The cabinet meeting discussed a multi-bill which is expected to be tabled in parliament and be approved by the end of next week.
Tsipras's office said he had told his cabinet it was a "priority" to conclude negotiations this week to allow the disbursement of 2 billion euros in bailout loans, and another 10 billion to be released towards the recapitalisation of Greece's systemic banks.
A government source said that negotiations with lenders were continuing, and there appeared to be some common ground.
Eurogroup President Jeroen Dijsselbloem on Tuesday forecast that the Greek government will have adopted all required measures for the disbursement of a sub-tranche of 2.0 billion euros by next Monday.
"New payments for Greece will be released as soon as households' insolvency issues are resolved; the decision is going to be taken next Monday," said Dijsselbloem, adding that "Greek problem will stay with us for many more years but we can cope with that".
Greek government sources appeared confident that an agreement on non-performing loans is achievable and will be close to the Greek side's proposals, at least regarding income and other criteria for protecting homes from foreclosure. Sources also said the two sides were close on the issue of the 100-installment debt settlement schemes, which they said would not be abolished. It is not yet clear which offsetting measure will be chosen to avoid imposing 23% VAT on private education.