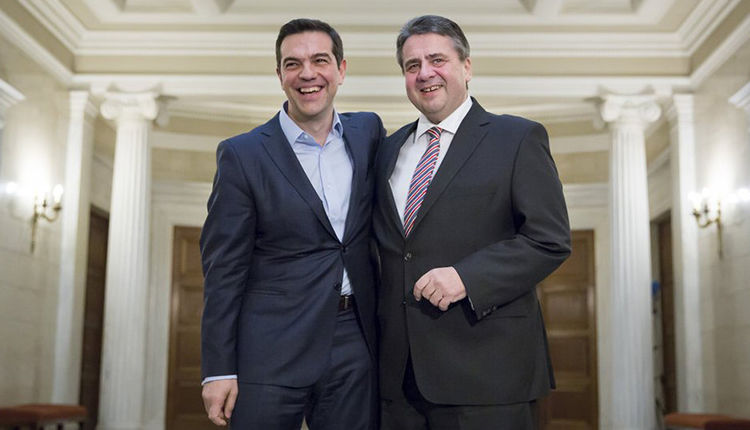 German Vice Chancellor and Foreign Minister Sigmar Gabriel arrived at the Greek government headquarters at the Maximos Mansion at 19:30 (GMT+2) on Wednesday evening for the start of a meeting with Greek Prime Minister Alexis Tsipras.
The dilemma is whether EU countries will regain the social contract and social acquis or if they will remain stuck in racist slogans which are unfortunately being heard from officials, Prime Minister Alexis Tsipras told German Vice Chancellor and Foreign Minister Sigmar Gabriel during their meeting at the Maximos Mansion in Athens on Wednesday.
"I welcome you in Athens at a particularly sensitive time, as we're before decisions that concern both the future of our countries and Europe as a whole," he said.
Tsipras noted that the climate at the imminent meeting of European Union leaders in Rome to celebrate 60 years since the signing of the Rome Treaties "will not be celebratory as clouds are gathering" over Europe.
"On the one side, we face the abandonment of the social contract and the unfortunate management of the economic crisis while new challenges today such as terrorism and security challenges hinder us from having a festive character," he told Gabriel, making a special note for the London attacks.
"A little while ago, I was informed about the blind attack in the center of London and I want to declare my solidarity with the British citizens, the British people," he said.
He continued by mentioning the extreme forces in Europe who use racist rhetoric which force countries to think how important the achievements of the EU were during the past 60 years and how important it is to maintain them and not lose them because Europe will then be weaker and divided. "Greece chooses the first category and is determined to work for it," Tsipras said.
On his side, Gabriel referred to the ongoing second program review saying decisions are difficult on the issue but all sides should work so that a solution can be reached in April.
"We don't want to have a story with no ending. We all have to work so that we can reach a solution in April. What remains ahead are difficult decisions," he told the Greek premier.
He then expressed his support for the government and asked for respect for Greek politicians and the people for the entirety of the reforms that have been implemented in the past years. He recalled reforms implemented by Germany a few years ago which caused dissatisfaction among the people. "I'd say however that compared to Greece, our [reforms] were a breeze."
He said he agreed with what Tsipras said about the Greek economy. "The EU must not be divided. Because even Germany, which has a strong voice, will not be heard and will not be able to face economies such as China, the United States or Russia," he said, adding that if there's a divide between North and South, Europe will not play any role.
When Europe was formed, it didn't just promise peace but also prosperity, he noted. "It is our issue to find a way to lead ourselves to growth and security."
Gabriel is on an official two-day visit to Athens. During his visit, he is scheduled to have a working dinner with the prime minister on Wednesday night and then a series of meetings with President of the Republic Prokopis Pavlopoulos and Foreign Minister Nikos Kotzias on Thursday. The talks during the visit are expected to focus on the migration and refugee crisis.
He will also visit the gallery that is to exhibit works of art in the 'documenta 14' art exhibition taking place in Athens and Kassel, Germany./IBNA