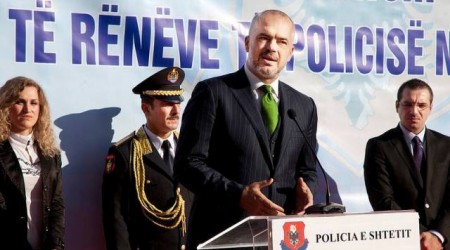 Tirana, July 18, 2014/ Independent Balkan News Agency
Prime minister Edi Rama was present today at the start of the new Police Academy season, where he declared that there's a lot of room for changes in police ranks, as there's a lot of room to show respect.
Rama said that frequent tests must be made to assess the preparation of police officers. As far as police officers who have fallen in the line of duty are concerned, the head of the government said that those who enter this academy, must not forget those who have shed blood to uphold the name and honor the uniform.
"State police has lots of men and women who not only deserve your respect and gratitude, but they're also a source of inspiration and experience, because otherwise, police could not remove the bad seed that was flourished, by damaging its image in the eyes of the international community, "the republic of drugs", Lazarat. Otherwise, it would be impossible for the strength of police to increase in such a short time. Without any doubt, the fight against crime is an perpetual fight, a fight which must be continue everyday, as every step in this path is a step to guaranteeing more safety and wellbeing to the country and the people", said Rama.
Referring to the new law on police, Rama said that career in the force will be achieved through professionalism and integrity of every member of the State Police.
The prime minister declared that within a year, salaries for police officers increased by 25%, adding that police will not be alone and that it will have support, respect and financial and moral motivation to successfully do its job. /ibna/