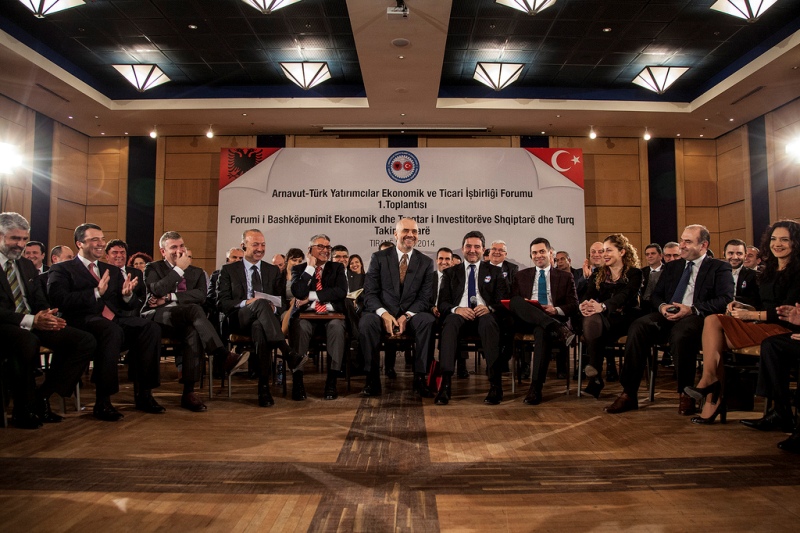 Tirana, February 27, 2014/Independent Balkan News Agency
Albanian prime minister Edi Rama says that foreign businesses in Albania have paid what he considered a corruption tax, amounting to at least 10%.
Mr. Rama claimed this during a meeting with Turkish investors, representatives of Albanian enterprise and representatives of economic and financial institutions in Albania.
The meeting (photo) was held in the framework of the creation of the Chamber of Economic Cooperation and Trade Albania-Turkey, which aims to take the the presence of Turkish enterprise in Albania to a new level.
Talking to investors coming from Turkey, Mr. Rama said that although they keep quiet, they have paid 1/10 of their profit for corrupted Albanian officials.
"The corruption tax is not known. I know that you will never say it aloud, but I understand you. You have paid it. While you arrived in Albania with the idea that profit tax is 10%, at the end of the year, your company didn't pay 10%, because a varied percentage has also been paid to the people in power", said Rama.
"In a survey that we have conducted with 5 thousand businesses, large, medium and small sized, in the period when we were drafting the program, we have concluded that the real average profit tax has been 22%. Thus, 10% plus the corruption tax. We have identified cases where this tax has amounted to 300%", said Rama.
The prime minister said that the government wants to put an end to this phenomenon. He said that this is a joint challenge in order to offer a sustainable economic development.
Thus, in order to tackle this, the government has appointed the National Economic Committee. Part of this committee is also a Turkish citizen, chairman of the Association of Banks of Albania.
Another measure announced by Rama, with the aim of putting an end to this phenomenon, is by increasing profit tax from 10% to 15% for companies, "with the condition that corruption tax in relations between business and the state not to exist any more". /ibna/