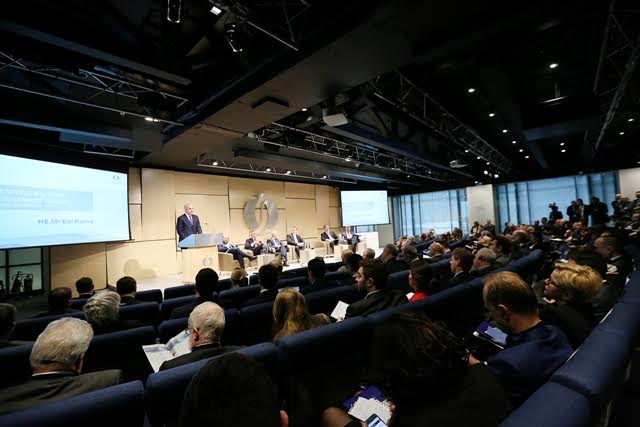 Tirana, 23 February 2016/Independent Balkan News Agency
By Edison Kurani
A strong warning comes from the Albanian PM, Edi Rama in front of businesses in the British capital, London, which for the second year in a row hosted the Summit for Investments in Western Balkan.
This summit is an initiative of the European Bank for Reconstruction and Development (EBRD), to promote the potentials and economic perspective of the region.
Gathered in the EBRD headquarters, Prime Ministers of Albania, Montenegro, Serbia, Kosovo, Bosnia and Herzegovina, Croatia and FYR Macedonia, discussed with over 300 participants, representatives of governments, European financial institutions, representatives of leading enterprises and investors, on the possibilities that the region offers to expand investments and develop regional projects.
The key domains of interest related to energy and transport. Albanian PM, Edi Rama better cooperation between the Balkan countries.
"We believe that the growth of economic cooperation between us is the foundation of a sustainable growth in each of our countries. Our economies are very small to compete with each other or on its own, within a global framework", Mr. Rama said.
Rama talked about the transformation of Albania, by inviting participants to invest in different domains.
"Those who are waiting until everything is like it is supposed to be, will regret it tomorrow for not investing today. In this environment, which is still not perfect, there are more opportunities than those that you will find in a perfect environment", said Mr. Rama with humor.
Rama said that projects like the Blue Corridor, TAP and IAP, have a big geostrategic importance and above all, bring the countries close to each other.
During 2015, trade between West Balkan countries grew significantly.
Albanian exports in the region have grown by 216% in the first nine months of 2015. This is seen by analysts as a clear proof of the fact that the Balkan region is now going through the best moment ever.
According to economy experts, economies of Balkan countries are very small to compete with each other. What's more, they are part of developing markets and do not have the luxury on relying on high prices of raw materials and crediting of the last decade.
The only option for the Balkan, to have economic growth that leads to employment and sustainable wellbeing, is to adopt a competitive model based on consumption, investments and export.
Albania is also making efforts in this path, as in the past, growth of consumption has mainly been funded by remittances and sector growth, stimulated by the development of the construction sector.
Albanian economy continues to grow, mainly relying on private investments and net exports.
Currently, economic growth in Albania varies from 2,2 to 2,7%. The government is hoping for economic growth this year to be 3,4%. /ibna/