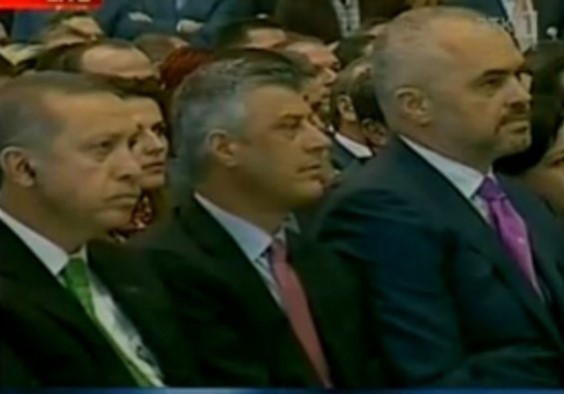 Pristina, October 23, 2013
Albanian Prime Minister, Edi Rama who participated in the inauguration of the airport of Pristina along with the Prime Minister of Kosovo, Hashim Thaci and that of Turkey, Recep Tayip Erdogan, praised the name of "Adem Jashari" which was given to the airport after the liberation of Kosovo, considering it as the name of a man who gave wings to the dream of an independent Kosovo.
"Congratulations for this excellent work, for a state which is only 5 years old, but which during these years has made a lot of progress and which is admired by the entire region. Along with Albanians wherever they are, Prime Minister Erdogan and his government followed the celebrations of the 100th anniversary of the independence of Albania and I would like to express my gratitude for the friendly Turkish nation", said Rama.
Rama also valued the new airport, considering it as a living monument of the memory of Adem Jashari and the hospitality of free Kosovo for all friends and visitors.
In his speech, Prime Minister Erdogan praised this project, considering Adem Jashari as the greatest hero of Albanians, while the airport as a modern work of art.
He also stressed that Turkey has been one of the first countries which recognized the independence of Kosovo, by adding that the past of Kosovo must not be repeated.
But, Prime Minister of Kosovo, Hashim Thaci considered this day as a historical one, by declaring that so far, Kosovo has been recognized by 104 countries. Prime Minister Thaci stressed that the investments and the modern infrastructure of this airport will link Kosovo to the world.
The terminal has a surface of 42 thousand square meters, while the investment cost amounts to 130 million Euros.
What's impressive about the terminal is the monument of Adem Jashari at the entry of the terminal. /ibna/