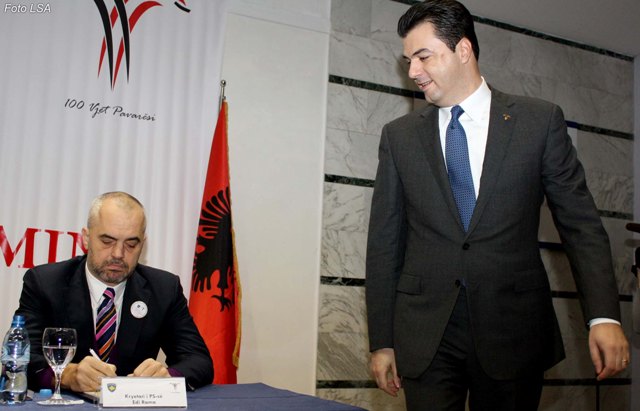 Basha: Edi Rama has mined democracy and independent justice. Hahn: Without voting the reform in the justice system, there's no launch of talks for Albania's accession in the EU
Tirana, 31 March 2016/Independent Balkan News Agency
By Edison Kurani
Albanian Prime Minister, Edi Rama has addressed a public invitation to the leader of the opposition to sit down in a political dialogue in order to solve the disagreements that exist between them.
Mr. Rama demanded for the talks to be made without international brokerage.
"I would like to address a public invitation to the Democratic Party and its leadership to sit down in a table of political talks, without the precious presence of our friends, where we will be ready to heed the opposition attentively and respectfully".
"I believe that there is a chance to agree in order to handle our disputes in a civilized way. There's a chance to separate our political agendas or legitimate reforms of a governing majority from the national agenda", said the socialist leader, who is also the Prime Minister of the country, following a meeting held yesterday with the European Commissioner for Enlargement, Johannes Hahn.
Mr. Hahn too demanded political consensus. He was direct with both sides when he said that "We need quick decisions for the reform in the justice system. The approval of the reform is decisive in order for us to continue work with the guideline", commissioner Hahn said, warning that without the voting of the reform in the justice system, there will be no opening of accession talks for Albania in the EU.
Hahn invited the opposition to take, like he said, "its step in the last mile of this process".
Earlier, Mr. Hahn met with the head of the state, Bujar Nishani and the leader of opposition, Lulzim Basha.
After this meeting, Mr. Basha said that "Edi Rama has mined democracy and independent justice".
"Two years after the agreement reached on 24 December 2014, Albania has not taken any steps forward in relation to the European integration of the country and it has taken many steps backward toward an autocracy that oppresses and violates the Constitution, the law and the rights of the citizens".
Mr. Basha warned that without the decriminalization law, Albanian democracy is threatened and along with it, its stability.
Meanwhile, in a recent development, Mr. Basha has gathered the democrat parliamentary group which seems to have left in power the decision to block parliament, until the mandates of the socialist MPs, Valentina Leskaj and Rakip Suli are sent to the Constitutional Court. These two MPs have been accused by the opposition for benefiting budget funds at the time when they were MPs. /ibna/