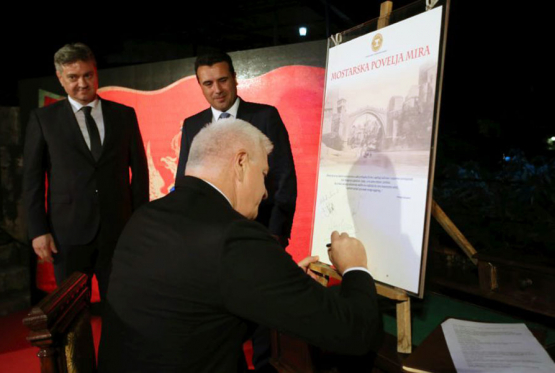 "I dedicate this award to citizens of Mostar and BiH as well as to every citizen of the region who wants to look into future", said the Prime Minister of Montenegro who was honoured with the Mostar Peace Connection Award, on Monday evening, together his Greek counterpart, Alexis Tsipras. However, the latter had to rush back to Greece due to the catastrophic wild fires that were burning in Attica, thus the award was received by the Greek Ambassador to BiH, Mr Iliopoulos.
Prior to Tsipras's early departure, the two premiers also signed the Mostar Peace Charter.
Duško Marković standing behind Alexis Tsipras while the latter signs the 'Mostar Peace Charter', Monday, July 23 2018, Mostar – BiH
Apart from the two premiers, the traditional international award Mostar Peace Connection was also awarded posthumously to the first President of the International Criminal Tribunal for the former Yugoslavia Antonio Cassese, Judge of this Court Carmel Agius, journalist Brent Sadler, Deputy in the German Bundestag Josip Juratović and Founder of IFIMES Zijad Bećirović.
Addressing the officials at the event Mostar does not forget its friends, as the official webpage of the government of Montenegro reads, the premier said that he is proud that the first recipient of the award was President of Montenegro Milo Đukanović, alongside Chairman of the Council of Ministers of Bosnia and Herzegovina Denis Zvizdić.
"This is a great honour and recognition for Montenegro because the liberal tradition and the nurture of tolerance and coexistence were always the guarantor of our survival, as well as a guarantee for the future of our citizens.
Standing next to the Old Bridge in this beautiful city, whose fourteenth reconstruction anniversary is celebrated today, I cannot avoid the mixed feelings – the burden of the past and the awareness of human suffering and endurance, and at the same time the hope and faith in the future. We have gone a long way in the Western Balkans and the progress is unquestionable compared to the day 25 years ago, when almost five centuries old bridge was demolished in a single moment. Now it is again and first of all a symbol of renewal and unification.
According to the famous Nelson Mandela, who was one of the laureates of the Mostar Peace Prize: 'Courageous people do not fear forgiving, for the sake of peace'. And that's the only way forward.
That is why we are especially pleased that Prime Ministers Tsipras and Zaev are here tonight with us.
The most beautiful news in the region has come from them lately and thank them for giving us new optimism, having the vision and courage to make difficult decisions for the good of their people, as well as for all of us. The Western Balkans is a place in Europe, not only geographically but also in terms of civilization and worthiness. It is time to make this path irreversible, and we are getting closer to that every day, thanks to our own efforts and our European and Euro-Atlantic partners."
Duško Marković concluded his Mostar speech by saying: "I want to dedicate this award primarily to the citizens of Mostar and Bosnia and Herzegovina, as well as to every citizen of our region who wants to look into the future. As Ćamil Sijarić said: 'When a man returns to the past, there is darkness'. Bearing in mind past experience, we can only be aware that there is no good from returning to the past, and that we can only advance by nurturing European civilization values and respecting our diversity and culture."…. / IBNA
Main Photo: Montenegrin PM Duško Marković signing the 'Mostar Peace Charter', Monday, July 23 2018, Mostar – BiH