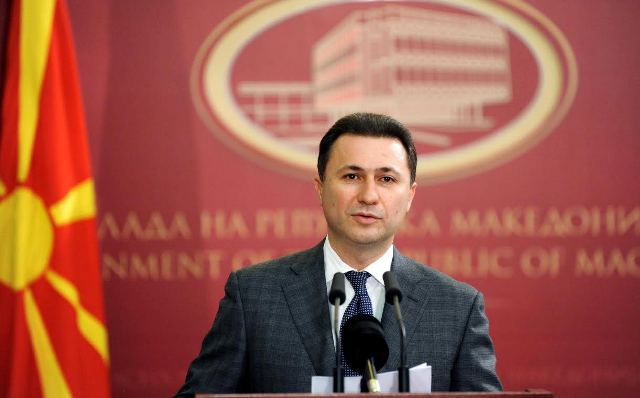 Skopje, 27 May 2015/Independent Balkan News Agency
By Naser Pajaziti
In a public appearance last evening, PM Nikola Gruevski has clarified the positioning of the government following the event in Kumanovo and negotiations for the solution of the political crisis.
Gruevski declared that his country remains committed in its path toward NATO and EU. Stopping on the latest security crisis with the case of Kumanovo, Gruevski said that there must be a thorough investigation and according to him, there are no indicators about the possible involvement of USA, Germany, France or Great Britain. "We have no indicators as to who is behind the armed incident in Kumanovo. So far, we have no information about the involvement of any foreign states or foreign secret service to encourage the terrorist or criminal group in the case of Kumanovo", Gruevski said.
According to him, it's not logical for countries that have invested in FYROM to try and cause instability in it.
In relation to the project of gasification through the Turkish Stream, Gruevski underlined that FYROM is expecting an agreement to be reached between Moscow and Brussels. "When Moscow and Brussels sign this agreement, then we will become part of it. We are a country that aspires to be integrated in the Euro Atlantic community and when we make strategic decisions, we base our interests on these objectives", Gruevski declared.
Gruevski also commented the name dispute, underlining that Greece is now focused on the financial crisis and once it's overcome, there can be hope that the Greek side may address this issue.
The PM also commented the declaration of the Albanian PM, Edi Rama that without the Ohrid Agreement, FYROM cannot become part of NATO. "The citizens of Macedonia and Albania want the integration in the NATO and EU. For this, we must work together and support each other. This is in the best interest of security and both countries", Gruevski declared. /ibna/