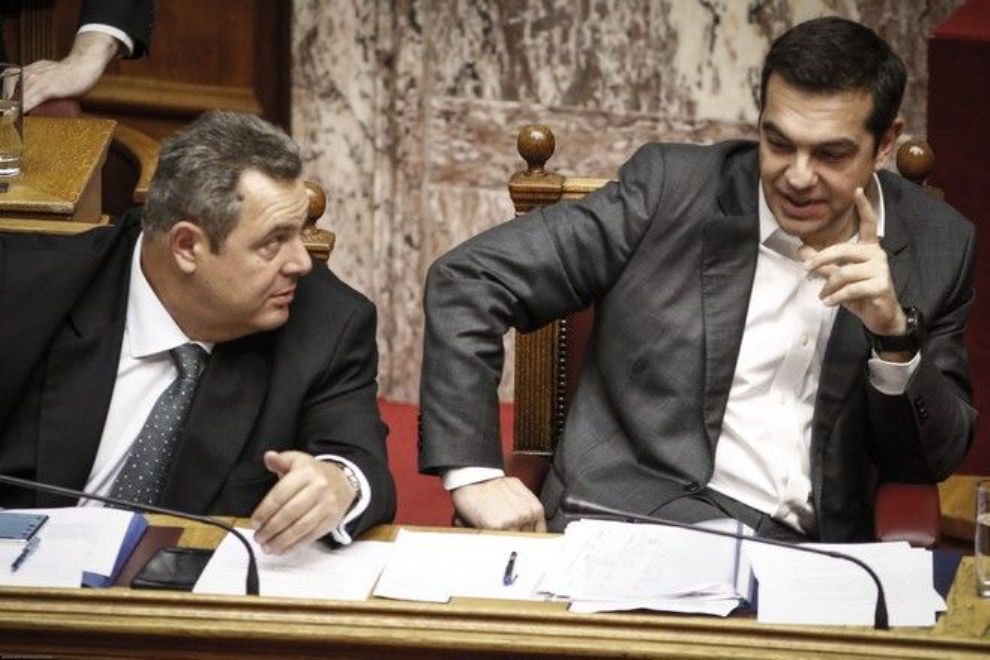 Prime Minister Alexis Tsipras was involved in tense debate in parliament on Monday with the leader of the main opposition New Democracy party, Kyriacos Mitsotakis.
New Democracy and Democratic Coalition MPs raised a series of questions to Defense Minister Panos Kammenos about a controversial deal to sell arms to Saudi Arabia via a third party.
New Democracy leader Kyriakos Mitsotakis accused Defense Minister Panos Kammenos of illegally using a private broker to negotiate a deal. Mitsotakis went on to pledge that when his party comes to power, it will launch a full probe into the arms deal and Kammenos's involvement.
He also called on Prime Minister Alexis Tsipras to clarify his position vis-a-vis the accusations made against Kammenos.
"Mr. Tsipras, are you being blackmailed by Mr. Kammenos that he will make the government fall?" the ND leader said, addressing the prime minister.
In turn, the Prime Minister accused Mr. Mitsotakis of adopting the absurd and slanderous accusations put forth by various corrupt media owners who want to bring down the government. Tsipras said the main opposition is trying to attack the government and bring it down, even though it has no proof about any of its claims.
The PM defended his junior coalition partner, Defense Minister and ANEL party leader, Panos Kammenos, arguing that he did nothing wrong in the handling of the 66 million euros' sale of surplus military material.
After revealing several documents to back up his argument that legal procedures were followed in the deal, Tsipras accused Mitsotakis of harming the country, not the government, by spreading fake news and accusations in order to move the agenda away from issues that "hurt" the conservative party.
Earlier, Defense Minister Panos Kammenos denied breaching protocol and said that the broker who negotiated the deal, Vassilis Papadopoulos, was acting for Saudi Arabia and not for Greece, despite claims to the opposite from Riyadh.
Analysts point out that the Saudi Arabia arms deal has the potential to destabilize the Greek coalition government, a theory Tsipras attempted to dispel by appearing in parliament to back up Kammenos. It should be noted that the Greek political debate has become polarized in recent weeks as the governing parties and the opposition have exchanged barbs over allegations of possible scandals./IBNA