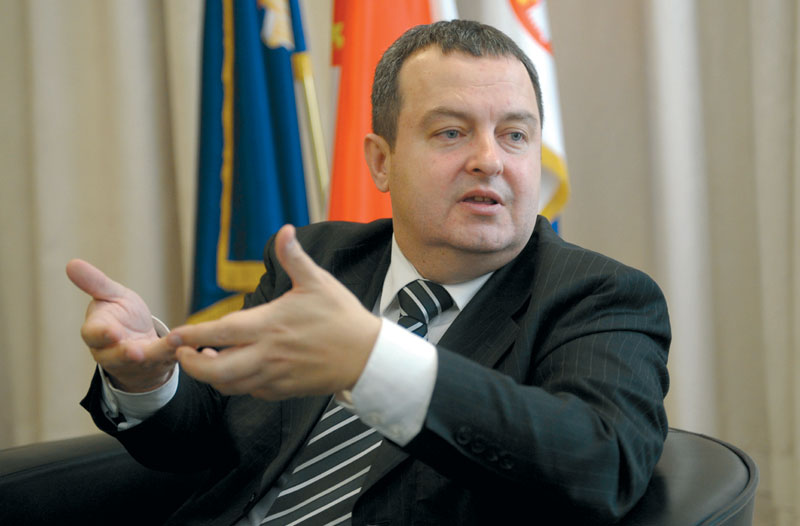 By Miloš Mitrović – Belgrade
Serbian Prime Minister Ivica Dačić has said that businessman Milan Beko "has the right, as anyone else, to express his opinion with regard who should lead the government". Earlier this week, Beko told Pink Television that Deputy PM Aleksandar Vucic should take the Prime Ministers post.
"I am not interested in it (Beko`s statement) and I do not understand why this should be the news", Dačić told journalists on Wednesday. He added that he personally knows Beko for a long time. "We would probably talk to each other". Beta news agency reported that Dačić reacted angrily when he was asked to comment Beko's statement about the government and said that journalists want reality show.
PM, who is also leader of the Socialist Party of Serbia (SPS) complained that media frequently misinterpret his statements. As an example, he mentioned the meeting between Deputy PM Vučić and opposition Liberal`s leader Čedomir Jovanović. After the meeting  which was held on Tuesday, Jovanovicć demanded early elections to be called and, according to Dačić, Vučić opposed the idea. However, media have suggested that Dačić is the only one who was against the elections, PM said.
Vučić`s Progressives (SNS) are the pillar party in the ruling coalition; nonetheless, Dačić become PM after 2012 elections due to coalition agreement.
After he asked journalists if they had "more serious questions" rather than those focused on Beko, Dačić declined to give further comments.
Earlier on Wednesday Milan Beko accused SPS for hate speech and provoking public oppression against him; SPS previously reacted to Beko`s statement about government by saying he was "personification of the Serbian distress".
SPS also accused Beko for "intending to create another strongman, namely that who leads the  fraudulent privatizations investigation", thus alluding to Vučić. During the 90`s Beko was the minister in the government of the former Serbian and Yugoslav President Slobodan Milošević`s who has also been SPS  leader. Dačić has been SPS spokesperson and Member of Parliament at the time.
Milan Beko has been questioned by the police regarding the privatization of the Port of Belgrade seven times since January.
Progressives high official and Parliament speaker Nebojša Stefanović called Deputy PM Vučić "not to stay quiet amid the arrogance of certain parties which enjoy significantly lower public support than SNS".