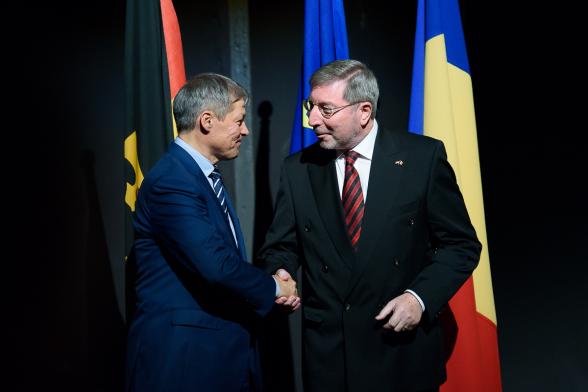 Bucharest, October 5, 2016/Independent Balkan News Agency
The relationship between Romania and Germany is currently "at its best and most intense" in history, Romanian Prime Minister Dacian Ciolos told a reception party on Monday extended by the German Embassy in Bucharest to celebrate the German Unity Day.
In his speech, Ciolos mentioned the historical significance of the 1990 reunification of the two Germanys, calling it "proof of the German people's regeneration capabilities." He added that the moment paved the way for new opportunities in the European design. "It paved the way for a European reconstruction that we ought to continue today," said Ciolos.
He added that Romania wants to contribute toward the creation of a more prosperous Europe that can preserve and consolidate peace and also to provide new prospects for the region.
"I want to assure my German friends that Romania will be a member state that has very well understood the responsibilities incumbent on it and that will play its part proactively and honestly for the development of the European Union," said Ciolos.
At the same time, he said the relationship between Romania and Germany is at its highest. " I do not know when else the Romania-Germany relationship was better or my intense than this moment now," added Ciolos.
He said Germany is Romania's main trade partner, mentioning the automotive industry to the point. "We have reached a point today when I would not exaggerate when saying that any automobile made in Germany has a component made in Romania, one way or another," said Ciolos.
He also mentioned the Romanian-born ethnic Germans, saying about them that they are as many Romanian ambassadors.
In his speech to the reception, Ciolos underscored the involvement of Romania, together with Germany, in the European project after the UK pulls out of the EU, known as Brexit. "After Brexit, we see clearly that Germany, alongside other European countries wishing for a European future, once again takes over the leadership, political leadership included, and Romania has joined Germany in the process," said Ciolos.
Source: Agerpres
Photo: actmedia.eu