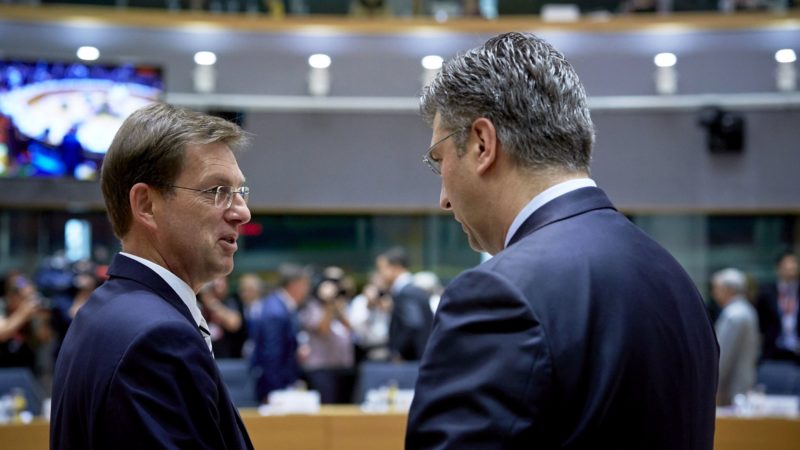 Prime Minister Miro Cerar will receive Croatian counterpart Andrej Plenković at noon in Ljubljana, in what will be first meeting following the border arbitration ruling.
Cerar announced he will discuss the implementation of the ruling with Plenković, while the Croatian official wants to discuss open issues between the two countries.
The Hague-base arbitration tribunal announced the long-awaited decision on 29 June, determining the course of the border on land and at sea after a process initiated by Slovenia during Croatia's efforts to join the EU.
While Slovenia is ready to respect and implement the decision, Croatia is sticking to its position that the process was "irrevocably compromised and contaminated" by the collusion of the Slovenian member of the five-strong tribunal and the Slovenian side.
Cerar and Plenković nonetheless agreed a few hours after the tribunal presented its decision that they would meet in Ljubljana on 12 July.
Cerar announced that he would insist the arbitration decision, which awards four fifths of the Bay of Piran and a junction with the high seas to Slovenia, needs to be implemented in cooperation with the neighbouring country in the coming six months.
Plenković, on the other hand, said that he would insist on Croatia's familiar positions, based on the country's withdrawal from arbitration and its insistence on returning to bilateral attempts to solve the border dispute.
Slovenia is also expected to highlight the clear message of the European Commission as well as several EU member states, including Germany and France, that Slovenia and Croatia need to respect the decision and implement it through dialogue.
Cerar has stressed on several occasions that international law is binding for both countries, especially since they are members of the EU, which was built on the rule of law and a commitment to the principles of international law.
Both sides have been highlighting the importance of the first meeting after the ruling, but are also warning against excessive expectations./IBNA
Source: The Slovenia Times