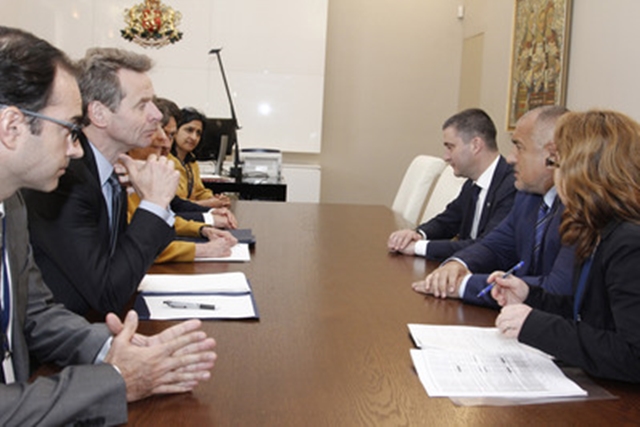 Sofia, June 1, 2015/ Independent Balkan News Agency
By Clive Leviev-Sawyer of The Sofia Globe
Bulgaria's government is working to ensure political stability in Bulgaria and improving the country's international reputation, Prime Minister Boiko Borissov has told senior representatives of the International Monetary Fund and the World Bank.
Borissov was speaking on May 30 at a meeting, hosted by Bulgaria, of an IMF constituency group and World Bank organisations of which the country is a member.
Those at the meeting included World Bank Vice President for Europe and Central Asia Laura Tuck, Director of the Bank for Europe Mamta Murthi and the IMF Director for Europe Poul Thomsen. Also attending was Bulgarian Finance Minister Vladislav Goranov.
Borissov said that in the first six months since his government came to office, it had focused its efforts on solving urgent problems, but now was looking at the longer term.
Bulgaria held early parliamentary elections in October 2014, following the departure of the 2013/14 Bulgarian Socialist Party-Movement for Rights and Freedoms ruling axis, which left the scene after mass public protests against it and the BSP's thrashing in May 2014 European Parliament elections.
According to a government media statement, Borissov outlined to the IMF and World Bank representatives the efforts of the Bulgarian government to safeguard the financial stability of the country, to fight against corruption and the grey sector in the economy, as well as towards key reforms.
"We created a specialist unit to combat smuggling, which included experts from our special services, revenue agencies NRA and the Customs, Ministry of Interior and the prosecution. The result of these efforts is a budget surplus at the end of May to the amount of nearly 1.2 billion leva. Compared to the same period of last year we raised more than $ 2 billion leva more," Borissov said.
He emphasised the importance of consensus on reform of the pension system, finding the best balance between the positions of the state, employers and trade unions.
"Of particular importance are the reforms in the judiciary, health and education. We are also reforming the special services, which in the past 25 years worked without planning laws. We have very good teams working on the absorption of EU funds, allowing us to achieve great progress in building strategic infrastructure in Bulgaria – every month we open highways, water treatment plants, underground railways, which are several times cheaper than average prices in Europe," Borissov said.
According to the government media statement, Tuck emphasised that the World Bank appreciates and supports the efforts of the Bulgarian government to implement reforms in key sectors.
The IMF-World Bank delegation also was welcomed by Ivan Iskrov, governor of central Bulgarian National Bank, reports said.
The government statement said that the May 30 meeting discussed the election of a new BNB governor.
Borissov assured the IMF and World Bank representatives that maximum efforts are being made for the nomination of the next BNB governor to be supported by all political forces. He expressed confidence that this process would soon be finalised, the statement said.