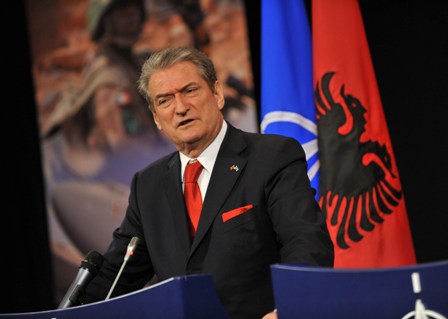 Former Prime Minister Sali Berisha accused the head of majority, Edi Rama for ruining consensus with the opposition for the endorsement of bills demanded by the EU for the country to be granted the candidate status.
In a declaration for the press outside the premises of parliament, after the Democratic Party left the proceedings, Berisha said that the ruining of consensus is the worst act against political dialogue in 23 years.
"In the 23 year old history of the relations between large political forces, this is the worst act in the existence of pluralism. All of those who have followed the difficult developments in Albania have noticed that these developments have been based on the Constitution and consensus. In the constitutional doctrine, consensus has the value of the constitutional norm", said Berisha.
Berisha also said that the EU candidate status was guaranteed to be granted in December, but with the latest actions, SP is not willing to collaborate with the opposition.
Former Premier Berisha said that the behavior of the majority is dangerous for the process of the integration of the country.
Mr. Berisha made these comments following the decision of the government to postpone the invigoration of the bill on civil servant for 6 months, a bill which was voted through consensus between majority of that time and opposition in May. /ibna/