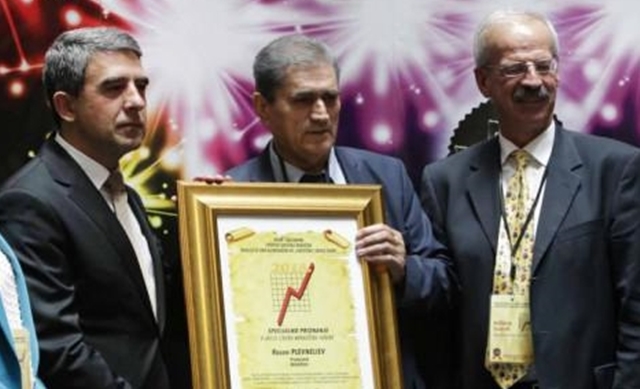 Sofia, July 3, 2015/ Independent Balkan News Agency
By Clive Leviev-Sawyer of The Sofia Globe
European countries are faced with a choice and have to take the right decision, whether to be guided in their relations by the rule of law or rely, as in the past, on policy driven by interests, Bulgarian head of state President Rossen Plevneliev said in Sarajevo on July 3.
During his visit to the capital of Bosnia and Herzegovina, Plevneliev was given the "European Personality of the Year in Southeastern and Central Europe" 2015 award for his "outstanding contribution to the stabilization and improvement of relations between European countries and particularly between neighbours in the Balkans".
In previous years, the award has been conferred on Poland's then-president Bronislaw Komorowski, the president of Montenegro Filip Vujanovic and the president of Croatia from 2010 to 2015, Ivo Josipovic.
"Every country and every nation in the Balkans can and must contribute to achieving our common goal – the establishment of the Southeast Europe as a region of peace, economic growth and shared democratic values," Plevneliev said.
"I believe that tolerance and peaceful coexistence of different religions and cultures, which thrives today in historic Sarajevo, gives an example to the world and is part of the recipe for success of our region," he said.
Plevneliev said that in the Bulgarian capital Sofia, where Bulgarian Orthodox and Roman Catholic churches, a synagogue and a mosque adjoin each other, also had made a contribution through the centuries to building the Balkans as a region of peace, tolerance and mutual respect.
"For all of us, it is important that Southeast Europe should demonstrate that it can overcome the challenges, crises and differences and give an example of a peaceful solution to the contentious issues of democratic transformation and effective reforms," Plevneliev said.
"The future of the Western Balkans lies in the European Union family," he said, adding that deeper integration both within the EU and in the region of Southeast Europe is the surest way to counteract destabilisation, isolation and poverty.
Together the 12 countries of the region include 150 million consumers in a rapidly evolving single market, he said.
Plevneliev said that the European Union was the most successful project in the history of peaceful integration between countries and "engine" for the expansion of regional co-operation in Southeast Europe.
"In 2014, our region has been hit by unprecedented flooding and we were able to prove that friendship has no limits and that together we are stronger and we can deal with common challenges," Plevneliev said.
He said that Bulgaria remains committed and will continue to support both the European prospects of all Western Balkan countries and the deepening of regional partnership.
On July 1 this year, Bulgaria took over the presidency of the Cooperation Process in Southeastern Europe. Plevneliev reaffirmed that Bulgaria would have three key priorities within its presidency: achieving better connectivity of regional transport and energy infrastructure; strengthening of democratic values, including freedom of media and access to the internet in support of civil society; enhanced regional cooperation on security and migration issues.
Plevneliev called for a regional approach in opening new markets for attracting strategic investors and promoting tourism and manufacturing.
"Only together can we ensure the stability and development of the region, because without stability we cannot work for growth," he said. Common challenges facing the Balkans, such as fighting terrorism, isolation, poverty and natural disasters also require closer integration and a search for common solutions, Plevneliev said.