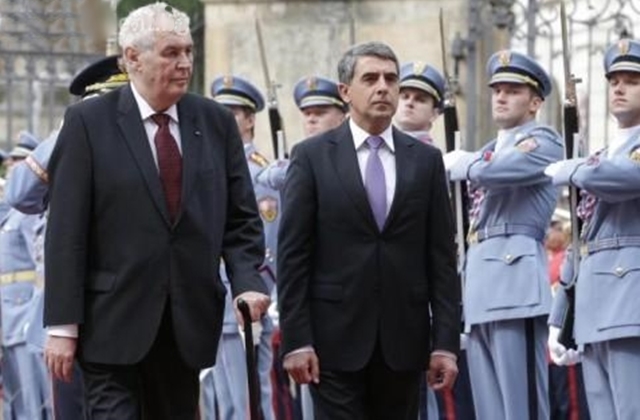 Sofia, September 5, 2016/Independent Balkan News Agency
By Clive Leviev-Sawyer of The Sofia Globe
The Czech Republic will support Bulgaria in guarding the European Union's external border, it was announced at a joint news conference in Prague on September 5 by Bulgarian president Rossen Plevneliev and his counterpart and host Miloš Zeman.
The news conference was held on the first day of a two-day visit to the Czech Republic by Plevneliev, his first such visit to the country.
The two countries will co-ordinate the technical details of assistance needed by the Bulgarian side and this will happen as soon as possible, Zeman said.
He called on the other EU member statesto also show solidarity with the countries undergoing the greatest migration pressure.
Plevneliev said that Bulgaria had shown from the beginning of the migration crisis that it was working effectively along the longest external land border, that with Turkey.
"Our good results are based on the good co-operation between Bulgarian and Turkish authorities," Plevneliev said.
"The way to counter the traffickers and to address the problems of migrants and respect for their rights and freedoms is to work together with Turkey and we sincerely believe that the agreement between the EU and Turkey has a profound significance and will be implemented," he said.
The interaction between Bulgarian and Turkish authorities to curb migration pressures is proof that this agreement may work in any form.
"We do not want the so-called Balkan Route reopened, we do not want alternative routes to arise," Plevneliev said.
He called for a pragmatic approach and for closer co-operation with the EU's neighbouring countries regarding the migration crisis, that would respond to the fears of European citizens because of mass migration to Europe from neighbouring crisis regions.
"We need more enhanced control of external borders, more effective diplomacy and closer cooperation," Plevneliev said.