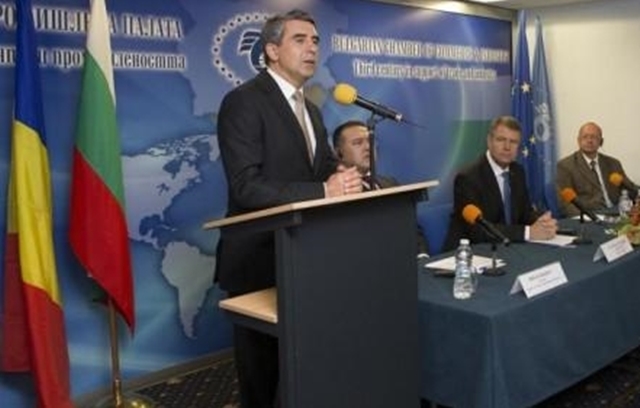 Sofia, June 16, 2016/Independent Balkan News Agency
By Clive Leviev-Sawyer of The Sofia Globe
Bulgaria and Romania are proof that the engine of European integration and regional co-operation works to ensure a positive change in the two countries and the whole region, Bulgarian President Rossen Plevneliev has told a Bulgarian-Romanian business forum.
The business forum was held in Bulgarian capital Sofia during a two-day visit by Romanian president Klaus Iohannis.
More than 100 representatives of the private sector from the two countries in the pharmacy, metallurgy, tourism, information technology, agriculture and food production, and advertisement sectors gathered at the forum, held by the Bulgarian Chamber of Commerce and Industry.
Plevneliev and Iohannis spoke of the bilateral trade relations in the past years, which had seen an eightfold growth in trade in the past decade, according to a statement by the Bulgarian President's office.
Bulgarian exports to Romania had increased by eight times, Plevneliev said.
He said that the comprehensive friendly relations between Bulgaria and Romania had opened the way to ensuring an even more ambitious trade and investments co-operation, beyond specific projects of bilateral interest that already had been outlined.
Iohannis said that Romania is one of Bulgaria's three most important trade and economic partners.
More than a million Romanian tourists visit Bulgaria annually and investment co-operation is becoming more active, Iohannis said. Bulgarian investments in Romania are worth more than 150 million euro, the Romanian president said.
Iohannis outlined the partnership between the two countries within the EU, the opportunities the two countries have within the EU Danube Strategy and in the Black Sea region, and also the successful implementation of joint projects under the Romania – Bulgaria Cross Border Co-operation Programme 2007-2013, in which a 95 per cent funds absorption has been achieved.
Plevneliev and Iohannis voiced their support for improving the transport and energy connectivity by constructing new bridge facilities between the two countries, for the implementation of the Rousse-Giurgiu gas interconnector by the end of the year, and also for improving the navigation and shipping along the Danube river, which will give an economic impetus to the regions along the banks of the navigable route.
Bulgaria and Romania joined the EU together and will work together to strengthen the EU integration processes. "We should be convinced that the European project will continue to develop," Iohannis told the forum.