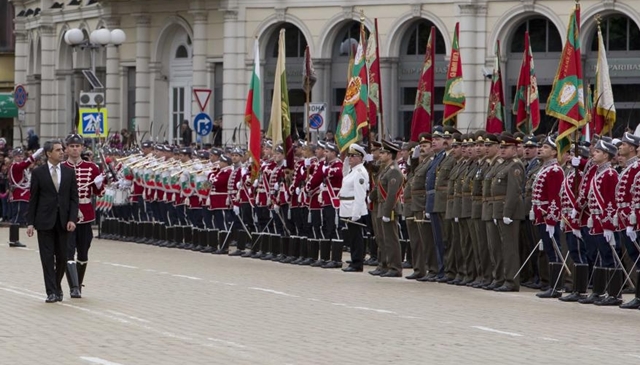 Sofia, May 6, 2015/ Independent Balkan News Agency
By Clive Leviev-Sawyer of The Sofia Globe
As a member of the alliance, Bulgaria is determined to contribute to the implementation of agreed common solutions in Nato aimed at its adaptation to the changing security environment, Bulgarian head of state President Rossen Plevneliev said on May 6.
Plevneliev, constitutionally the commander-in-chief of Bulgaria's armed forces, was speaking at a parade celebrating the annual Army Day.
He said that the Consultative Council on National Security had achieved broad political agreement on a new agenda and a plan for the development of the armed forces and a start to the priority projects to modernise the armed forces.
From 2016, the defence budget will grow gradually to reach two per cent of GDP in 2024.
"Future investment in defence must dramatically increase our interoperability with Nato partners," Plevneliev said.
Bulgaria's membership of Nato was the strongest guarantee of the independence, sovereignty and territorial integrity of the country, he said.
The military was performing with dignity its obligations to the security system of the country, Nato and the European Union, Plevneliev said, pointing to the high regard with which the country's allies and partners saw the Bulgarian army and the top marks given to its military personnel in their participation in operations and missions abroad.
Plevenliev said that, "history has taught us that military victories come and go, while democracy and human rights must be upheld every day".
It was "unacceptable" that today in Europe there were frozen conflicts, destabilisation and violation of international law.
"We stand behind our rule of law, not concealed interests," he said.
"Today we need a new dose of modern patriotism as opposed to extreme nationalism. Modern patriots stand behind the principles of international law, where disputes are settled by putting forward arguments," he said.
Plevneliev, referring to celebrations of the 70th anniversary since the end of World War 2, said that in a sign of admiration for the bravery and sacrifice of Bulgaria's tropps, the Military Academy will lay 23 urns with soil from the battlefields of World War 2 that had been watered with the blood of the Bulgarian soldiers.
Plevneliev will be going to Poland on May 7 and 8 for commemorations of the end of World War 2. Like many Western leaders, he will not attend the massive military parade in Moscow on May 9 as Putin's Russia observes the revived Soviet-era Victory Day.