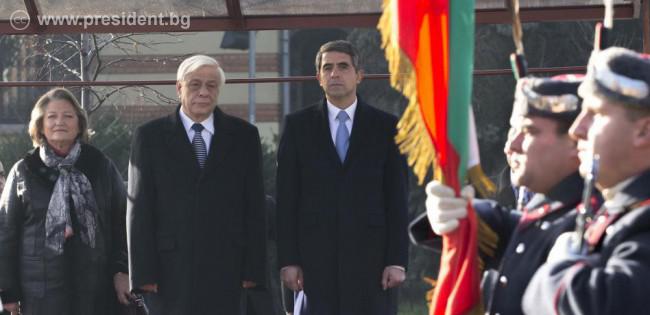 Sofia, December 14, 2015/Independent Balkan News Agency
By Clive Leviev-Sawyer of The Sofia Globe
Bulgaria and Greece insist on clear rules for resolving the problem of migration, which should be observed both by the countries in the region and the countries of the European Union, Bulgarian President Rossen Plevneliev said after December 14 talks with his Greek counterpart Prokopis Pavlopoulos.
Plevneliev said that every European country should have a "hotspot" for admitting refugees.
"The tensions that we have seen recently between some countries in the Balkans came from the fact that rules are not respected," he said.
He said that in the EU, the Dublin Regulation and the rules of Schengen were clearly defined.
When migrants were transferred though half-open or closed borders and responsibility was transferred from one state to another, "it's just a recipe for disaster, for a problem".
"When we are together, we have a common approach to the common problem, then we are strong and we can solve any problem."
He said that the "notorious 'hotspots' should not be in one European country, migrants enter everywhere. When we are talking about hundreds of thousands, even millions fleeing war and conflict, it is not possible to leave one or another country out".
The talks between Plevneliev and Pavlopoulos also touched on energy issues.
Plevneliev said that the construction of the intersystem gas connection between Bulgaria and Greece would contribute to improving Europe's energy security and diversification of sources of natural gas.
He thanked his Greek counterpart and the government of Greece for the signing of the final investment decision for the construction of Bulgaria – Greece intersystem gas connection.
"Together we will implement the North-South gas corridor. We also are working together for the implementation of a very sensible idea, namely the establishment of the Energy Exchange for South East Europe," Plevneliev said.
He noted that Greece is one of the three largest investors in Bulgaria, with bilateral trade between Bulgaria and Greece is at high level, close to three billion euro a year.
"Only though joint efforts can we turn this historically burdened part of Europe in the part into a democratic and prosperous region in the future. Bad connectivity in regional aspect raised invisible walls and hampered economic development and investments over the years. Now we are thinking and acting beyond the borders – we build motorways, bridges, railway lines, new border checkpoints, and seek rapprochement. Our economies are increasingly linked," Plevneliev said.
He said that Bulgaria was convinced that the forthcoming high-level meeting on co-operation between Bulgaria and Greece, to be held in the first half of 2016, will contribute to the development of more good projects and joint initiatives. The construction of modern regional energy infrastructure was a top priority, Plevneliev said.