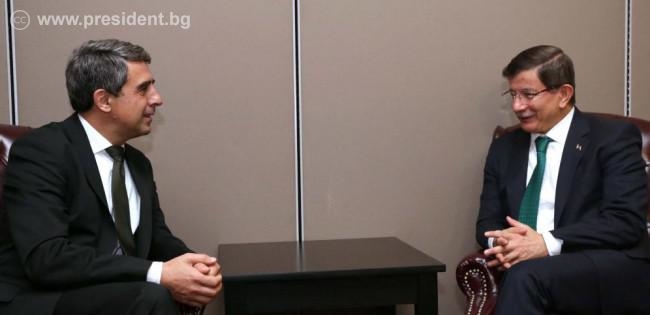 Sofia, September 28, 2015/Independent Balkan News Agency
By Clive Leviev-Sawyer of The Sofia Globe
The European Union and Turkey are part of the solution to the refugee crisis, Bulgarian President Rosen Plevneliev and the Turkish prime minister Ahmet Davutoglu during a bilateral meeting in New York, the Bulgarian President's office said on September 28.
The meeting was attended by Deputy Prime Minister and Interior Minister Rumyana Buchvarova and Foreign Minister Daniel Mitov. The Bulgarian and Turkish delegations are in New York for the UN General Assembly session starting on September 29.
Turkey plays an important role in addressing the crisis, as its territory has nearly two million refugees. The Turkish prime minister assured President Plevneliev that cooperation with the Bulgarian authorities on this matter will be strengthened.
"Bulgaria appreciates the efforts of the Turkish authorities' efforts to prevent illegal immigrants on the territory of our country. We are grateful to our Turkish colleagues that have shown in recent months that together we are more effective," Plevneliev said.
Plevneliev said that the two countries jointly were developing specific controls and security of the Bulgarian-Turkish border.
An example is the agreement to establish a centre for police and customs co-operation between Bulgaria, Turkey and Greece.
According to Plevneliev, a long-term and sustainable solution to the refugee problem would be achieved only through resolving the crisis in Syria.
"When compromises are made on human rights and freedoms, everything is compromised. In the coming days the international community will negotiate, will seek solutions. There is a large degree of readiness and willingness on the part of the world political elite to find a solution to this conflict. It will not happen immediately," he said.
The Turkish prime minister informed the President that the construction of high-speed train from the Turkish side to the Bulgarian border is progressing very quickly. Plevneliev said that Bulgaria is actively working on the modernisation of the railway infrastructure, such as completing the railway section from Plovdiv to Svilengrad.
Plevneliev and Davutoglu underlined the positions of both countries that the gas interconnecting link between Bulgaria and Turkey is on the agenda and is an important project for the diversification of gas supplies to Bulgaria from the Caspian region.
They also discussed the increase in bilateral trade, which has doubled since the official visit of the Bulgarian President to Turkey at the end of 2012.