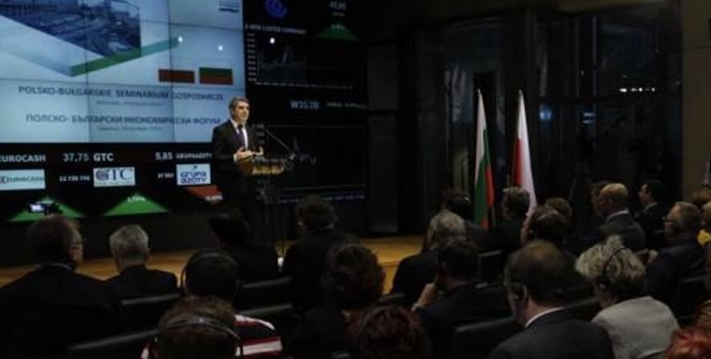 The Balkan region is working to ensure connectivity and integration and has enormous potential for establishing successful business partnerships, Bulgarian President Rossen Plevneliev told a business forum at the Warsaw Stock Exchange.
Speaking on November 19, Plevneliev – visiting Poland at the invitation of his counterpart Bronislaw Komorowski – said that Eastern European countries should work not only to build the infrastructure that connects them with Western Europe, but also to realise the potential of the North-South transport and energy connections.
One of these projects envisages connecting the harbour in Gdansk with the harbour in Thessaloniki through a highway and a high-speed railway, which would boost accelerated economic exchange and development for the whole of Eastern Europe, Plevneliev said.
He said that Bulgaria's strategic location near the emerging markets of the countries of the Black Sea region is the reason for the willingness of a growing number of companies to set up in Bulgaria's industrial zones.
Plevneliev said that Polish businesses have the opportunity to invest in a different Bulgaria, which in recent years has encouraged economic sectors with a high added value and has achieved success. He highlighted the high tech sector, car industry, energy, agriculture and food production and tourism as the most attractive sectors for investments in Bulgaria.
Bulgaria is reviving its tradition in the information and communication technologies sector and in the past 10 years alone has managed to create 35 000 new jobs, Plevneliev said.
He said that Bulgaria has managed to attract world leaders in this sector such as HP, Oracle, IBM, SAP and others.
Plevneliev said that with the help of EU funding worth 50 million euro, Bulgaria will launch its first innovation ecosystem "Sofia Tech," which creates opportunities for the development not only of the Bulgarian companies, but also of the emerging companies in the region of South Eastern Europe.
Bulgaria's growing reputation as a producer of components for the car industry in the Balkans also creates opportunities for a mutually beneficial partnership, the President said.
Germany is showing a great interest in the development of this sector and currently Bulgaria is working to implement the Auto Park Bulgaria project, the aim of which is to establish a car cluster in Northwest Bulgaria. Currently the production of components for the car industry in Bulgaria is worth 1.5 billion euro a year.
Earlier, on November 18, Plevneliev and Komorowski agreed that the European Energy Union would strengthen not only the security of the EU member states, but also their competitiveness.
"The diversification and connectivity of the gas-transit systems by building inter-connectors is of key importance for overcoming the dependence on one supplier and guaranteeing energy security," Plevneliev said.
He emphasised that Bulgaria would continue working to ensure the creation of an integrated electricity and gas regional market in South Eastern Europe and for connecting it with the Visegrad Group countries.