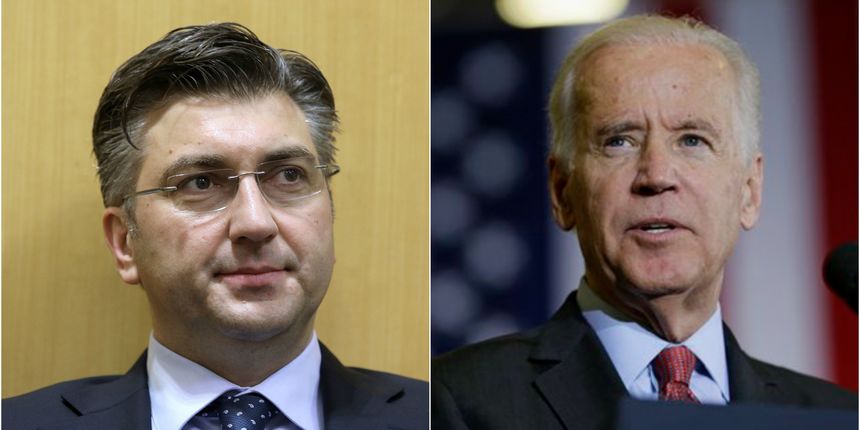 Croatia's Prime Minister Andrej Plenkovic said on Tuesday that he had talked with U.S. Vice President Joe Biden about Serbia's EU membership negotiations in general and that the talks actually referred to how Croatia could assist southeastern European countries on their journey towards the EU and NATO.
After Serbia opened two and not three policy chapters in Brussels on Tuesday, Serbia's Prime Minister Aleksandar Vucic accused Croatia of being the sole country that opposed the opening of the Policy Chapter on education and culture.
Vucic also claimed that on Tuesday afternoon Biden telephoned Croatia's office holders to underscore the need to open the said policy chapter.
In comment on Vucic's claims, Plenkovic confirmed that he had talked with the U.S. Vice President and that Serbia's membership talks had been considered in general.
"No concrete mention of the blockade was made. We talked about the process of the accession negotiations and that in the context of those relations Croatia could offer its experience to help its neighbours," Plenkovic told reporters in the Istrian town of Pazin.
"Serbia is in the process of accession negotiations. There is a set of policy chapters, a set of criteria that need to be fulfilled. We think that Serbia is on the way to fulfilling them," the Croatian premier said.
Concerning the chapter on culture and education, Croatia has maintained its reservations on some aspects regarding education, schoolbooks and minorities. We expect Serbia to make progress in that regard, Plenkovic said.
Earlier on Tuesday, the White House reported about the telephone conversation between Plenkovic and Biden on the Euro-Atlantic integration of the Western Balkans.
"The Vice President and Prime Minister Plenkovic discussed the importance of the Euro-Atlantic integration of all countries in the Western Balkans. The leaders agreed that progress toward these goals would contribute to the peace, stability, and prosperity of the entire region," the press release said.
The conversation took place on the day that Croatia blocked the opening of a policy chapter in Serbia's EU accession negotiations. Serbian Prime Minister Aleksandar Vucic said in Belgrade that only one EU country, Croatia, was against the opening of Chapter 26, which covers education and culture./IBNA
Source: eblnews.com