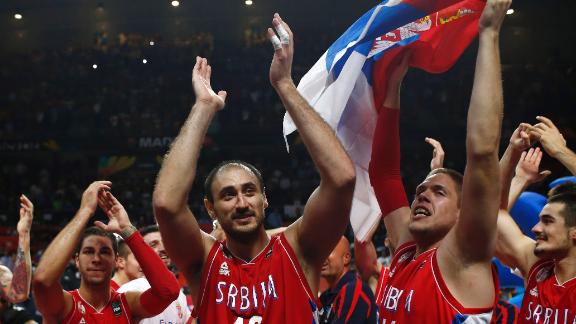 Review Hari Stefanatos
After an amazing game, Serbia beat France 90-85 and qualified for the Basketball World Cup final in Spain, where they will face the U.S.. The "Tricolore" could not take advantage of Batum's amazing performance.
Serbia did superb things at the beginning of the game. They ran the ball well at every opportunity not giving a chance to the French defence to organise and, if one excludes the 10-9 of the French, they managed to control the game entirely. Milos Teodosic started the game "warm", Rantoulitsa played his role with his brutal strength and Serbia built an early difference (10-20, 15-30).
France seemed hypnotized, especially in defence, where they conceded many easy points, due to the good off the ball movement of the Serbs. France closed down the difference to 9 points (21-30), but then Serbia, with a new crescendo from Teodosic and a touch from the brave Kalinic, increased the lead of the Serbs (25-43) to close the half-time at +12 (32-46) .
During the third quarter, the Serbs showed no inclination of letting go of the reins of the match. The lightweight formation of France (with Dios Center) did not puzzle Djordjevic's men neither did the points of Batum, who fought alone for the "Tricolore". Krstic helped in the offence and kept their large lead relatively comfortable (32-49, 41-57, 46-61).
France played all for all at the latest period, strengthening first and foremost in defense. They managed to close the difference to less than 9 points after a long time, and then with proper movement of the ball managed to find easy three-pointers with which they clipped the difference to 4 points (61-65 in 35′). At that point spoke Bogdanovic's class, which kept Serbia in a relative safe distance (66-72), while in the 37 'Teodosic's three-point bomb made it 68-77.
The "competition" from the 6.75 line continued and Ertel reduced to 3 (79-82), one minute before the end, while 22 seconds before the end Teodosic missed a two-pointer. Ertel managed to score only one free-shot in 18 seconds (82-84) and Kalinic gave an air of 4 points to Serbia, with its own pair of shots from the "charity line" (82-86). Ertel took the crucial shoot and missed 8 seconds before the final whistle, with Bjelica "killing" the game with two points from the foul line.
Periods: 15-21, 32-46, 46-61, 85-90
France: Ertel 12, Batum 35, A. Dio 2, Lovern 4, Jackson 3, Fournier 10, Pietris, Gkomper, 4 Bo. Dio 13, Zelabal 2.
Serbia: Teodosic 24, Simonovic 2, Jovic, Bogdanovic 13, Bjelica 10, Markovic 11, Kalinic 8, Bitsevits, Krstic 11, Raduljica 11.
(Source: Contra)