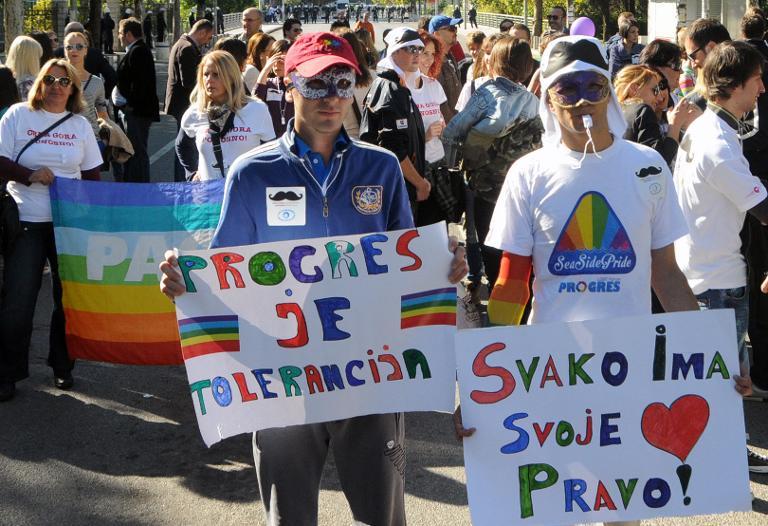 By Adnan Prekic – Podgorica
The organizing committee of the Pride Parade in Podgorica has not yet decided on a definite date of when the representatives of the LGBT community and their supporters will walk through streets of the capital. Board member of the NGO Queer Montenegro Ana Dedivanovic, said that the public will be informed of the date as soon as they have determined it together with the representatives of the Police.
In the meantime, on May 17 starts the campaign that will precede the parade, and is meant to improve the visibility of the LGBT community. "In addition, the selection of the biggest homophobes and friends of the LGBT community will be organised. The list of candidates will be announced next week on the website of the organization and the voting will last until the Pride", said Staša Baštrica. Chairman of the Board Queer Montenegro Daniel Kalezić said that they expect this year's parade to be more visited than the previous one, as indicated by contacts that they have with the community.
"We expect the same support from organizations that supported the last parade, but we also requested meetings with representatives of the state authorities. The absence of their support would have nullified everything the state has worked till now on this field", said Kalezić. He expects little trouble, as well as better a response from the prosecution in their processing. Kalezić criticized the government's Council for anti-discrimination, which, he said, did not accept any of their suggestions. The government has done the same when it comes to their suggestions for the improvement of the Action Plan for the implementation of the strategy for improving the situation of LGBT people in Montenegro.
The first parade was held on October 20 in Podgorica, which was marked by the clash between police and protesters outside the zone of the maintenance of the Pride. During the first Pride Parade in Podgorica there were a lot of broken windows, flower pots, containers, fences, bollards, cars etc. After the Pride Parade, the police had detained around 100 people. The damages the hooligans made ​​on October 20 was over 20,000 euros.