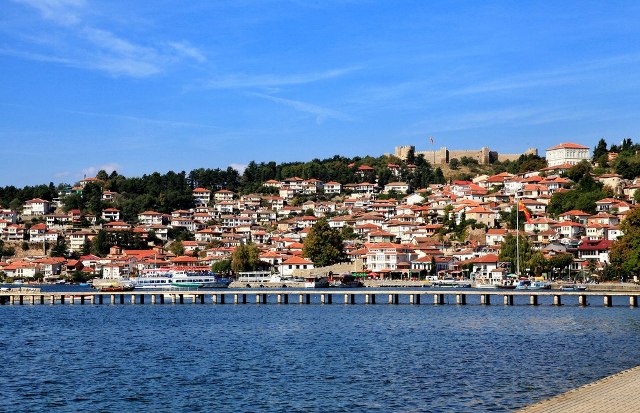 UNESCO has expressed its concern in relation to the construction of a railway line, only 10 km from Ohrid Lake. This railway line which is part of the 8th Corridor, will link FYROM to Albania.
UNESCO says that this project may pollute the lake. Situation in Ohrid has been problematic for over a decade now, as UNESCO says that constructions and new infrastructural projects may pose a threat for the heritage.
In July of this year, during the meeting of the World Heritage Committee in Istanbul, UNESCO said that this region is facing the possibility of being placed in the list of endangered regions. This report is expected to be approved by this organizations' committee.
"Bearing in mind the high sensitivity of the eco-system and visual integrity of this area around the lake, other alternatives must be looked into in order not to affect the lake", UNESCO says.
The state owned railway company has issued a response saying that the project has also gone through a feasibility study to evaluate the effect of this project to the environment. "As a company, we have not been informed on UNESCO's complaints about the dangers that exist for the pollution of the lake", this company declared.
UNESCO's coordinator in FYROM, Lidija Topuzovska says that in the coming months, representatives of the organization will arrive in FYROM to analyze the project and come out with conclusions on the threats that may be reflected on the Ohrid Lake.
Lupco Melovski, professor of sciences in Skopje has been part of the team of experts drafting the study for the railway line linking FYROM to Albania. According to him, this line doesn't pose any threats for the lake. "This study clearly shows that the effect on the lake has been taken into account and we believe that there won't be any effects", Melovski said.
Ohrid is one of the 28 world locations to be included in the UNESCO World Heritage in two categories: culture and nature.
The Ohrid Lake is one of the biggest ones in the Balkans. Stretching between FYROM and Albania, this lake is the deepest one in the peninsula, with a maximum depth of 300 meters. Along with Galicica mount nearby, they're home to rare species.
Besides natural beauties, what makes Ohrid so special for many tourists is the rich cultural heritage. The city is full of old churches, picturesque houses and monuments that date back centuries ago. /balkaneu.com/