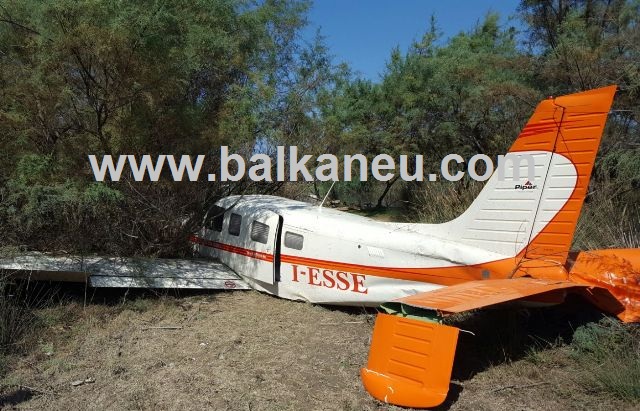 Tirana, 15 September 2016/Independent Balkan News Agency
By Edison Kurani
A private plane has crashed in the morning hours in the area of Ishem, in Durres. The plane is suspected of international drug traffic.
State Police say that no narcotic substances were found after the plane was searched. But, using its sources, the opposition says that the airplane crashed due to the overload of drugs.
Such thing had also happened several months ago, when a plane with an Italian pilot inside, crashed in the same location due to the excess weight of drugs that it was carrying.
Pilot: I went out because it was a beautiful day
The plane that appears on the photo was flown by Guido Andrea Guidi, 69 years old, retired pilot.
When police arrived there, he said that he made an obligatory landing following a defect. "I was flying over the sea, since it was a beautiful day", the pilot said.
In 5000 foot, the plane showed a problem. While landing, the plane sustained damages, but the pilot didn't. But how did the plane arrive to Albania. Guidi said that he set off in Bari and his destination was the north of Italy, but he didn't explain why he entered Albanian space.
Police: We didn't find any drugs
Police of Durres said that no illegal object was found inside the plane, but they didn't explain what the Italian plane was doing in Albania, while it was supposed to travel from Bari to the north of Italy.
Meanwhile, Interior minister, Saimir Tahiri reacted by saying that there is no evidence that proves that the plane was used for traffic of drugs. He said that the government and the ministry that he leads, are working hard to reduce the cultivation and the traffic of drugs in the country
Former Interior Minister
Former Interior Minister, Flamur Noka insists on the opposite. He says that he's convinced that the plane with the Italian pilot on board had only one mission, to carry drugs to Italy.
"Albania is full of planed that carry drugs. The skies are being used by traffickers to smuggle drugs from the air", Mr. Noka said.
According to him, these traffics enable criminal funding and the purchase of votes in the elections by the left wing majority is one of them. /balkaneu.com/