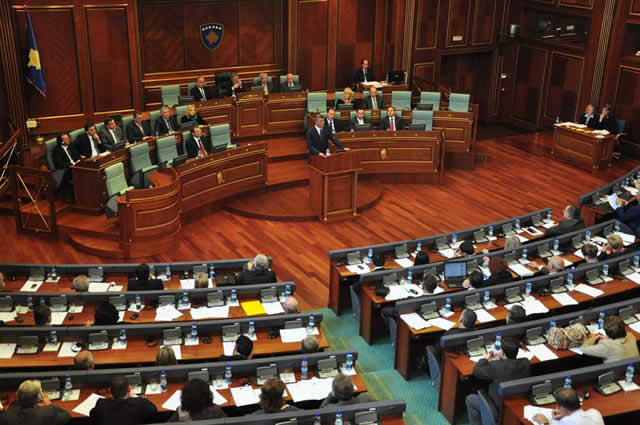 Pristina, March 10, 2014/Independent Balkan News Agency
By Elton Tota
Although the law on general elections, finalized by the law committee, has been returned to the parliament of Kosovo to be processed, parliamentary political parties have not yet agreed on the last scenario, the basis on which this legislature will be dissolved and early parliamentary elections will be announced.
The head of the parliamentary group of the Democratic Party of Kosovo (PDK) in the parliament of Kosovo, Adem Grabovci says that PDK will support that option which is determined by the majority of other parties.
"Given that it's the will of everyone, we have found a common language. At any time, PDK has been ready to enter elections, because we believe that we are the most well organized party, the more structured one and we don't consider the victory of PDK with inferiority", says Grabovci.
LDK comes out with two alternatives
Democratic League of Kosovo (LDK) MP, Armend Zemaj says that this political force has the will, based on agreements reached between the heads of political parties, for Parliament to decide for self dissolution with two thirds of the votes of MPs. According to him, this must happen immediately following the approval of law in Parliament. Zemaj says that in case this option fails, then a second option will be attempted through a motion launched by opposition parties and for it to be voted in the parliament of Kosovo.
New Kosovo against
But, the chairwoman of the parliamentary group of New Kosovo Alliance, Muzejen Selamni says that a rapid processing of the election law in Kosovo by the government must not be used as a pretext to head toward elections in June.
"We will have the first voting and the second reading in parliament and once the bill comes into power, the president can announce the elections 6 months after", says New Kosovo Alliance MP.
Experts: Parliament should reach consensus
Expert on electoral issues, Blerim Burjani says that the best choice would be to legitimize the political agreement in parliament.
According to him, all representatives of political parties must agree on a joint decision to dissolve the parliament of Kosovo, a decision which would then be voted in parliament.
Meanwhile, professor Riza Smaka believes that this formula of the implementation of the political agreement for the dissolution of parliament and the government, has a constitutional basis and this may give way to the president of Kosovo, Atifete Jahjaga to announce early parliamentary elections. /ibna/