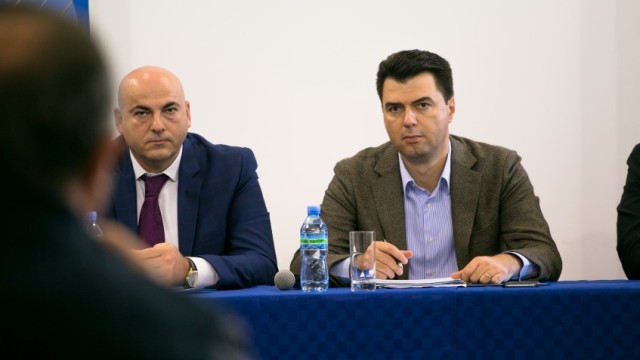 Tirana, 12 October 2016/Independent Balkan News Agency
In Albania, the opposition says that it has a plan to remove the government led by the socialist PM, Edi Rama, through a civil movement and its alliance with this movement.
This idea has been launched by the leader of opposition Lulzim Basha during a meeting in Vlora with his supporters, but also with "supporters of the left wing disappointed by Edi Rama".
Basha said that the opposition is aiming to forge a civil alliance to remove Prime Minister Rama from power and to bring back the country to normality.  "In order to hold and free and fair elections, in order for Albanians not fear crime when they vote, it is imperative to break the cycle of drugs and crime", Mr. Basha said. Basha accused PM Edi Rama that "after filling the administration with criminals, he brought criminals to parliament, gave them key posts, made them mayors and then criminalized the state structure by turning Albania into a warehouse of narcotics".
According to Basha, "this warehouse of narcotics is now causing thousands of Albanian people to be enslaved for these criminals and for Edi Rama".
Basha says that the key to the removal of this government is decriminalization: "We have taken a big step as an opposition and for this, we must be proud that we have the decriminalization law. It is clear if one of the criminal figures through which he holds on to power is removed, then this is the end for Edi Rama".
But Basha says that for these reasons, Rama is not applying the decriminalization law.
"The only way to stop this destruction for Albania and Albanians is to tell Edi Rama that there cannot be free and fair elections with him", Mr. Basha said. This message is seen as a warning by the opposition which may impose conditions to the government to enter the 2017 elections. The aim is to create a technical government which will prepare the upcoming elections. Such objective is seen as "mission impossible" by some, because the left wing has a big majority and it has confirmed the 2013 victory with a much bigger victory in the local government elections last year and in the partial elections held a few weeks ago. /balkaneu.com/