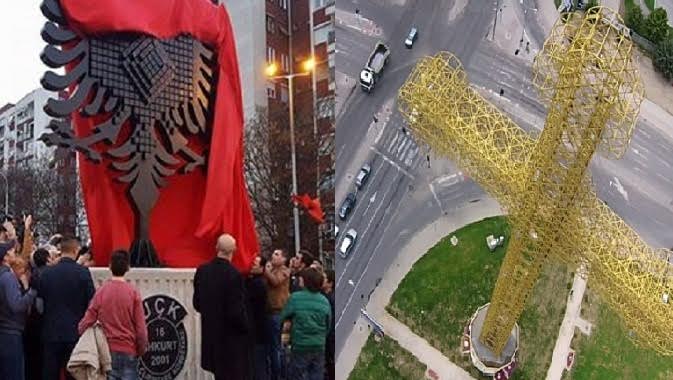 Skopje, 7 March 2016/Independent Balkan News Agency
By Naser Pajaziti
Experts of political developments in FYROM say that the protests against the erection of a giant cross in the commune of Butel in Skopje and the placement of an eagle as an Albanian symbol in the commune of Cair, aim at causing political and religious tension.
After the protests taken place during the weekend, this week public opinion is expected to see a decision as to whether to erect the 52 meter cross in Butel or not.
On Saturday, BDI's activists stopped their protests by saying that there is an agreement not to build the cross, but on the other hand, the initiator of this project, Todor Petrov of the World Macedonian Congress, said that the cross will be built and nobody will be able to stop this.
BDI's councilor in the commune of Butel, Naim Saliu, told IBNA that an agreement has been reached not to erect the cross.
"We have reached a deal not to erect the cross", Saliu said stressing that this week there will be new details about the possible solutions to overcome tension.
But the Macedonian World Congress and VMRO-DPMNE, the cross will be erected. This has also been the stance of the mayor of Butel, Petre Latinovski, who comes from the ranks of VMRO-DPMNE.
"The cross will be built and we demand assistance from police in order to guarantee the safety of works. Nobody can prevent a symbol which doesn't aim at causing divisions and is not against Albanians, because Albanians themselves have religious tolerance", Petrov said, stressing that he will propose the construction of a monument for the Albanian prominent figure Fan Noli.
On the other hand, political analysts say that VMRO-DPMNE and BDI must resolve this problem through institutions and not through protests.
Mirjana Najcevska, university professor says that the local government must consult with citizens for every project which is deemed to damage cross ethnic and religious relations.
"Every decision which doesn't undergo debate and dialogue, can cause conflicts and ethnic tension".
Journalist Fatos Rushiti told IBNA that these problems are politically related. "These scenarios are clear, because they attempt to divert the attention from the political, economic crisis and other problems. This also has to do with the investigations that have been launched by the Special Prosecution, an issue that will affect many people", Rushiti said.
Opposition parties have accused that these scenarios with crosses and eagles are part of the scenarios of the party in power to cover their failure and divert attention from the upcoming elections.
Residents of Butel appeal for calm in their commune, by avoiding any incident or situation that can affect ethnic relations. /ibna/