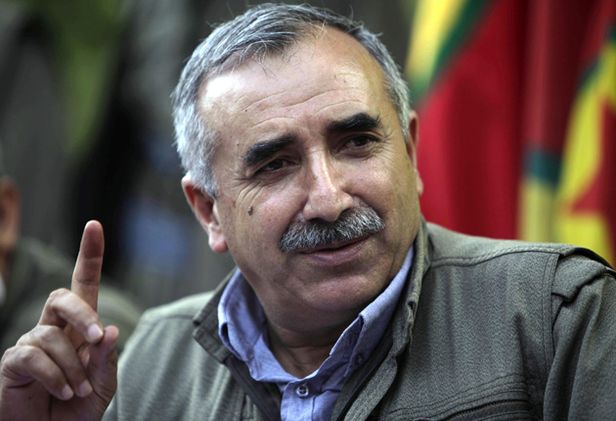 By Manolis Kostidis – Ankara
Leader of the PKK military arm, Murat Karayilan(photo), has sent a stern warning to Turkey. "The Kurdish issue resolution process is on the verge of collapse. The entire process has not broken down entirely but it is at a critical point", he said.
Karayilan stressed that "prisons are filled with Kurdish politicians. All this makes it hard to move the process forward". The leader of the Kurdish organisation's military arm mentioned next week will be critical for the Kurdish issue.
Meanwhile, the leader of pro-Kurdish Peace & Democracy Party, Selahattin Demirtas, stressed the PKK continues to withdraw rebels from Turkey. "I don't think the PKK could give an exact date the withdrawal will be fully complete, but all rebels are on the move. They have been walking the mountains for many days. What they tell us though is that a large number of them are leaving", he said.
Ocalan: What will happen if my heart stops beating?
Demirtas also revealed Abdullah Ocalan is worried about the state of his health. The BDP President said the Kurdish leader told him: "I am at the center of the resolution process. I made the call. What will happen if my heart suddenly stops before the process is complete"?
In Ankara the Turkish government is holding successive meetings in order to assess the current state of the Turkish issue. Deputy Prime Minister Bashir Atalay called an extraordinary meeting with government vice-chairmen Bulent Arinc and Bekir Bozdag, Interior minister Muammer Guler and Justice minister Sadullah Ergin in order to assess the situation and decide the government's next moves on the Kurdish issue.