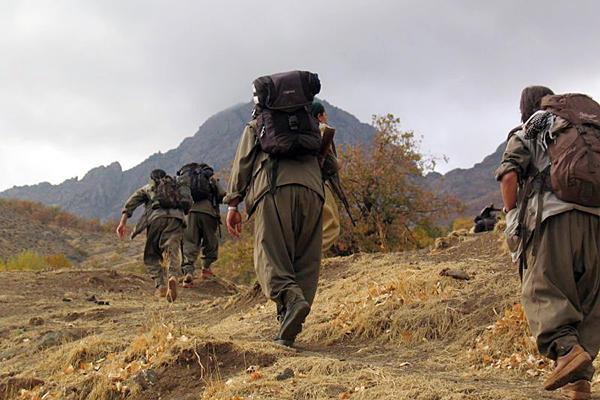 By Manolis Kostidis – Ankara
The second wave of the withdrawal of the rebels of PKK from the turkish territories is expected next September, with the Kurd waiting for the adoption by the turkish parliament of the reforms that have been promised by the government of Recep Tayyip Erdogan.
PKK since 2013 has declared a truce and as a gesture of 'goodwill' has withdrawn its forces from southeast Turkey heading towards northern Iraq.
According to the Turkish newspaper Hürriyet, the turkish government has last week brought  in parliament a reform plan that aims to "revitalize" the peace process (PKK), which is currently at a standstill.
The plan foresees for the immunity of the officials of the country who will participate in the negotiations with the PKK, while giving amnesty to many members of the PKK. The bill also foresees that the government "will take the necessary steps for their return to their homes and their participation and their reintegration into social life".
But hardliners Kurds seek greater immunity, as the government does not give amnesty to PKK rebels, who participated in armed conflicts, but only to members of the organization!
However, the leader of the kurdish organisation, Abdullah Ocalan, who is in the hands of the Turks since 1999, "welcomed" the government's effort.
According to Hürriyet, Kurdish rebels will start to withdraw from the turkish territory after the voting of the bill, which is expected to take place in July. Today in Turkey it is estimated that there are at least 8,000 PKK rebels, with as many to the mountains of Northern Iraq.
In Ankara, however, there is concern with the "appearance" of the leader of the Islamic jihadi organization IKIL, Abu Bakr Al-Baghdadi, at a mosque in Mosul, which is located 95 km from Turkey. The self-proclaimed "caliph", in a video posted on the internet, asked the Muslims to "obey" him. The central Iraqi government claims that the video is a fake and that Baghdadi is injured. This was the first public appearance of Baghdadi, the most dangerous "terrorist" in the world according to "TIME" magazine.
"Seven out of the nine border outposts in Syria are under the control of the Islamists of ISIL or the Kurds of PYD. All the border crossings with Iraq are controlled by the Kurds in Northern Iraq. ISIL took Mosul and rendered the border between Syria and Iraq useless. This terminology was used once by Mr. Davutoglu for the Middle East and now we see it at our 'doorstep'", writes Milliyet's political analyst, Kadri Gursel.