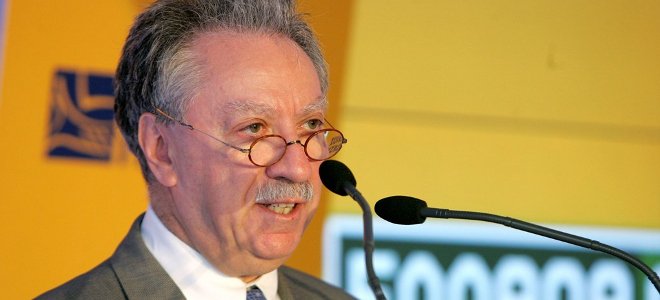 By Lefteris Yallouros – Athens
Greece's Piraeus Bank announced an initiative to pump a total of EUR 2.2 billion in the country's economy. Chairman Michalis Sallas said the bank's plan was to offer much – needed liquidity to companies and households as well as offer lower interest rates on business loans by as much as one percent.
Speaking on Monday at the Athens Chamber of Tradesmen, Sallas also said Piraeus Bank would create a Center for Innovation and Entrepreneurship for extrovert Greek companies.
Piraeus Bank aims at boosting productivity and competitiveness of small and medium sized enterprises especially as well as farmers, the property market/construction firms, innovative startups and companies exporting their products to other countries.
Michalis Sallas – who has succeeded in turning his bank into Greece's largest in recent years – made special reference to the fresh economic model geered towards growth that Greece is in desperate need of. "It is a request increasingly voiced from a host of stakeholders from different backgrounds; business, social, political. They all associate it with economic growth, openness and private investment" he said.
"We must search for and utilize advantages that release entrepreneurship from the strict sense of cost (…) in this respect the new model of economic growth should be directed towards the creation of added value based on quality, an essential component of which is innovation" Sallas added.
The Piraeus Bank chairman did add however that innovation did not "fall from the sky" but new ideas need the right environment in which to develop and take an operational form towards the productions of goods or services.
Another high – profile banker, Giorgos Zanias, the president of the Union of Greek Banks, spoke also on Monday of a much needed transformation of the economy.
Zanias highlighted the need for taxation to be slashed in order for a re-balancing to occur in the economy. He also stressed structural reforms must continue along with interventions in the business environment ranging from eliminating red tape to properly determining land use.