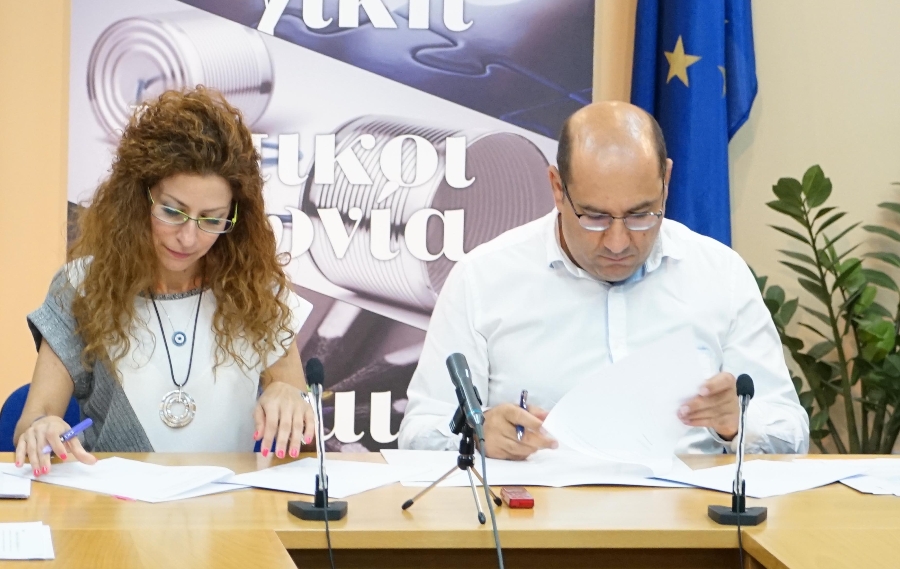 A Memorandum of Understanding between the PIO and the Larnaca Municipality for the establishment of a Research Center in Larnaca was signed today at the Press and Information Office (PIO). The Agreement was signed by the Managing Director Sophia Michaelidou, on behalf of the PIO, while, on behalf of the Municipality, the Mayor of Larnaca, Andreas Vyras, signed it.
The agreement comes after the successful collaboration of the PIO with the Limassol Municipality, where the first Research Center was founded in 2011 at the Limassol Historical Archives and Research Center.
The Research Centers aim at the possibility of free access of the public to the digitized archive of Cypriot newspapers of the Press and Information Office. This archive includes newspapers dating back to 1878, with a set of pages approaching one million. Research in the Archive is through an easy-to-use electronic search system.
The GCP Research Center – Larnaka Municipality will be operational next September and will be housed in the premises of the "Phoibos Stavridis Foundation – Larnaca Archives", in the restored historical building of the former Ottoman Bank. Like other Research Centers, it will serve on a daily basis a wide audience, scholars and students.
At a press conference, on the occasion of the signing of the Memorandum of Understanding, Michaelidou said that "in line with the objective set by our Office for the modernization and optimal use of the Newspapers Archive, concrete steps have been taken so that the Researchers' access to our Archive be made even easier".
As Michaelidou said, "the beginning was made by the decision of the Council of Ministers last September for free access of the citizens to the Newspaper Archive. Based on this decision, an important part of the Archive is accessible in digital form at our Research Centers in Nicosia and Limassol".
Referring to today's signing of the Memorandum of Understanding with the Larnaca Municipality, the Director of the PIO said: "Today is an important day for the Press and Information Office, since we are proceeding with further decentralization. A process that has begun for some time now, aimed at extending this state service in Larnaca".
For his part, the Mayor of Larnaca said that today "marks a major step towards the further realization of our vision and goals for the establishment in Larnaca of an integrated Research Center for History and Culture", underlining that research and innovation are key growth and prosperity factors at the regional and state level, as well as an integral and crucial element of the developmental strategy of all countries.
Emphasizing that research and innovation are key developmental factors of Larnaca Municipality program, Vyras praised the Press and Information Office's offer in this direction, with the placement of the Research Point that will contribute to the development of Larnaca.
Finally, at the press conference, the Director of the PIO announced the establishment of two more Research Centers in Paphos and Free Famagusta in the coming Spring.
In addition, Michaelidou announced the "Digital Herodotus II", a co-funded project by the European Commission, which concerns, among other things, the digitization and maintenance of newspapers, as well as the launch of a financial support plan for the press, for the period 2017-2019"./IBNA
Photo: pio.gov.cy