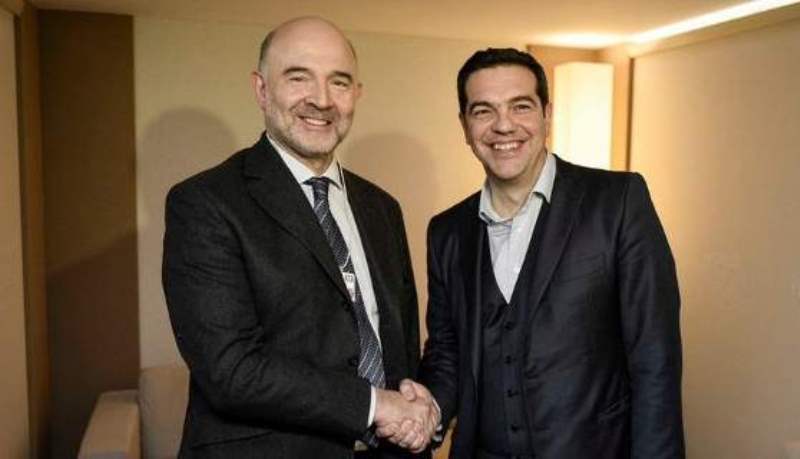 Athens, July 18, 2016/ Independent Balkan News Agency
By Zacharias Petrou
On Monday Greek Prime Minister Alexis Tsipras will hold a meeting with European Commissioner for Financial Affairs, Pierre Moscovici, who is officially visiting Athens.
The meeting is scheduled for 12:30 PM at the Prime Minister's office at the Maximos Mansion.
According to information, the two men are expected to focus on the second review of the Greek bailout program which is oficially set to begin in the autumn. However, Athens has been urged by its international creditors to begin work early in order to achieve a swift conclusion.
It is noted that befor his meeting with Moscovici, the Greek premier has called a meeting with the government's economic team. The most important issues on the table include accelerating Greek debt relief talks, setting primary surplus targets beyond 2018 and labor relations, an area in which especially the International Monetary Fund is pushing for deep reform.
"I am optimistic that the International Monetary Fund will respect the Eurogroup's decisions of May 25. Of course there will be some challenges about the talks on the measures for the debt in the fall, but I hope that all sides will come to the negotiations with an open mind and a desire for compromise," Moscovici said last week.
According to Greek press reports, Alexis Tsipras is expected to ask the European Commissioner that the second review is concluded swiftly and as soon as possible and that the tough demands tabled by the IMF are opposed by European creditors.
Meanwhile, Pierre Moscovici will also hold a joint press conference with Greek Finance Minister Euclid Tsakalotos. The Commissioner is also expected to talk with Economy Minister Giorgos Stathakis and Labor Minister Giorgos Katrougalos.
In an interview with MNI news agency ahead of his visit to Athens, Moscovici said talks "will have to be swift, irrespective of the situation in Britain." "It is in everyone's interest, but above all Greece's, that the second review be successfully completed as quickly as possible," the European official added.